How to manage storage in a VMware environment
Read up on how VMware servers are communicating with your storage and how administration in this environment is becoming easier.
Looking for something else?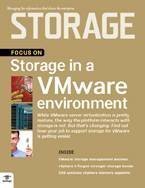 Even though VMware-based server virtualization has been around for years, data storage managers continue to struggle with the challenge of handling its relationship with storage, with problems frequently cropping up around troubleshooting and performance monitoring. But storage management tools for a VMware environment have been made available that let users control how their storage supports virtual servers. VMware also allows you to manage storage from inside vCenter Server with the recent launch of vSphere 5, which offers new features that include VMware's Storage Distributed Resource Scheduler (DRS) and a new set of APIs.

Download this free guide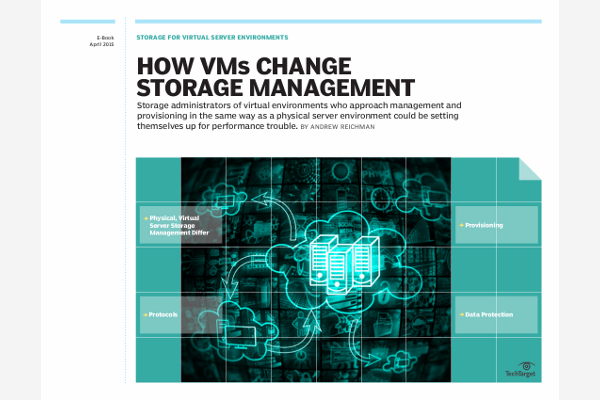 Free download: A complete guide to storage for virtual environments
Many storage admins consider virtual servers for a boost in agility – which is essential when supporting remote offices, new business applications, and unbridled data growth. But, if you're thinking of approaching your virtual environments with the same old storage strategy as your physical servers, then you're setting yourself up for a series of performance and capacity issues down the road. Download this invaluable guide, featuring expert tips and advice to help you architect the best storage management strategy for virtual environments.
By submitting your email address, you agree to receive emails regarding relevant topic offers from TechTarget and its partners. You can withdraw your consent at any time. Contact TechTarget at 275 Grove Street, Newton, MA.
You also agree that your personal information may be transferred and processed in the United States, and that you have read and agree to the Terms of Use and the Privacy Policy.

Download this e-book on storage in a VMware environment for more developments on how your job as a VMware storage admin just might be getting easier.
What's inside this e-book:
Managing storage for VMware environments
Virtual servers and storage systems don't have to exist in separate worlds; new tools and plug-ins provide single-console management of both virtual servers and storage.
vSphere 5 gives a big boost to storage functionality
vSphere 5 contains many storage enhancements, including a storage-centric DRS tool, Storage Profiles, a new API for storage awareness and an improvement to an existing API, an increase to the LUN size limit, and improvements to Storage vMotion.
SSD satiates vSphere memory appetite
Using SSD technology in a VMware vSphere environment helps with memory overcommitment. Find out what the limitations of server hardware are, how memory overcommitment works and why SSD is better at supporting it than mechanical disk.
Dig Deeper on Data Storage Solutions for a Virtual Environment
PRO+
Content
Find more PRO+ content and other member only offers, here.