Hypervisor vendors advancing data storage management capabilities
Hypervisor vendors VMware, Citrix Systems and Microsoft are ratcheting up the data storage management capabilities of their virtualization platforms with improved provisioning, among other features.
Looking for something else?
As the server virtualization market has matured, hypervisor vendors have added data storage management features to their products, sometimes in conflict with storage vendors. VMware Inc. was first to address storage and continues to lead competitors Citrix Systems Inc. and Microsoft Corp. in data storage management features and functionality.

Download this free guide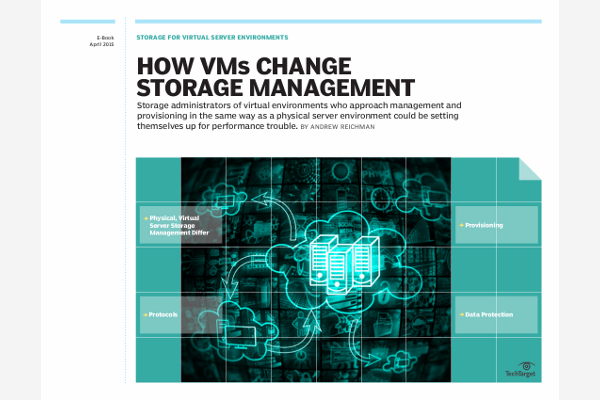 Free download: A complete guide to storage for virtual environments
Many storage admins consider virtual servers for a boost in agility – which is essential when supporting remote offices, new business applications, and unbridled data growth. But, if you're thinking of approaching your virtual environments with the same old storage strategy as your physical servers, then you're setting yourself up for a series of performance and capacity issues down the road. Download this invaluable guide, featuring expert tips and advice to help you architect the best storage management strategy for virtual environments.
By submitting your email address, you agree to receive emails regarding relevant topic offers from TechTarget and its partners. You can withdraw your consent at any time. Contact TechTarget at 275 Grove Street, Newton, MA.
You also agree that your personal information may be transferred and processed in the United States, and that you have read and agree to the Terms of Use and the Privacy Policy.

VMware
VMware's virtual storage manager resides within the vCenter management console. The vStorage Virtual Machine File System (VMFS) is a cluster file system that provides optimized virtual machine (VM) storage virtualization. vStorage stores the VM state in a central location, and storage administrators can run multiple, concurrent instances of VMware ESX Server and access the same VM storage. VMware data storage management also includes advanced features such as thin provisioning and hot extension for virtual LUNs, which allows storage managers to expand LUNs at the VMFS level without taking down the LUN. VMware Data Recovery takes VM snapshots and does file-level recovery from virtual machine disk (VMDK) backups.
While VMware used to require its VMFS to support capabilities such as its VMotion live migration feature, its customers can now run VMware with NFS or Raw Device Mapping, which maps virtual servers to storage at the block level.
Citrix XenServer 5.5
Citrix's XenServer 5.5 has limited data storage management capabilities unless you purchase the Citrix Essentials add-on package, which includes the company's StorageLink technology. StorageLink lets storage arrays behave as native XenServer storage, so administrators can provision VM storage directly from the XenServer management console by making features such as thin provisioning, data deduplication and performance optimization that are included with the arrays available.
Microsoft Hyper-V R2
The introduction of Microsoft Hyper-V R2 last October included improvements in the hypervisor's storage capabilities, mostly features that VMware customers were already accustomed to. Data storage managers using Hyper-V can now dynamically add and remove disks from guest operating systems and dynamically expand virtual hard disks (VHDs). Hyper-V R2 also introduced Cluster Shared Volumes, which allow multiple VMs to share LUNs.
Hyper-V R2 with System Center Virtual Machine Manager 2008 R2 also supports Live Storage Migration, which allows LUN-to-LUN migration of storage from one platform to another, although this requires some downtime. VMware Storage VMotion supports similar migration without downtime. Hyper-V also uses the Microsoft System Center Data Protection Manager (DPM) and Microsoft's Volume Shadow Copy Service (VSS) technology for VM snapshots.
Dig Deeper on Data Storage Solutions for a Virtual Environment
PRO+
Content
Find more PRO+ content and other member only offers, here.