Virtual machine storage: Plenty of alternatives, plenty of confusion
SAN, NAS or DAS? They're all valid types of storage for virtual servers or desktops; your job is to find out which one will work best in your environment.
Looking for something else?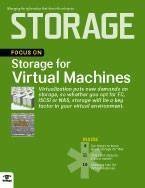 Virtualizing servers and desktops can make maintenance and management a lot easier for sys admins but not so much for storage managers. Consolidating servers or desktop PCs can put new strains on storage systems, but it's a lot more complicated than just needing more capacity to accommodate all those centralized virtual machines, which can spawn at an alarming rate.

Download this free guide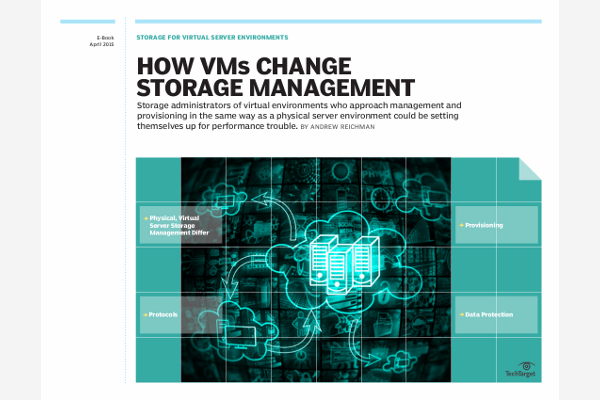 Free download: A complete guide to storage for virtual environments
Many storage admins consider virtual servers for a boost in agility – which is essential when supporting remote offices, new business applications, and unbridled data growth. But, if you're thinking of approaching your virtual environments with the same old storage strategy as your physical servers, then you're setting yourself up for a series of performance and capacity issues down the road. Download this invaluable guide, featuring expert tips and advice to help you architect the best storage management strategy for virtual environments.
By submitting your email address, you agree to receive emails regarding relevant topic offers from TechTarget and its partners. You can withdraw your consent at any time. Contact TechTarget at 275 Grove Street, Newton, MA.
You also agree that your personal information may be transferred and processed in the United States, and that you have read and agree to the Terms of Use and the Privacy Policy.

It's a foregone conclusion that networked storage is a basic requirement, but there are still plenty of decisions that must be made when configuring virtual machine storage.
Our research shows that Fibre Channel arrays are, by far, the most popular type of storage used in support of virtual servers.
FC's predominance for virtual machine storage may be at least partly attributable to its legacy status—it supported pre-virtualization physical servers and was kept in place to handle the virtualized environment. After Fibre Channel are the other forms of storage -- iSCSI and NAS.
There are many considerations that figure into evaluating storage systems for virtual environments, such as whether block storage is required or if a file system will suffice. Network infrastructure may be a decisive factor, too, especially if a Fibre Channel fabric is already in place or if 10 Gigabit Ethernet is in the plans. The performance of a storage system will certainly be a key factor, as consolidation tends to translate into server growth and introduces new phenomena like boot storms. And as virtualization software gets smarter with increased integration into storage systems, the capabilities of the storage array will become even more critical to the well-being of your virtual environment.
The one basic rule to keep in mind is that there are few—if any—hard and fast rules when it comes to choosing storage to support your virtual machines. The trick is to carefully match the needs of your organization with the particular capabilities of a networked storage system.
Dig Deeper on Data Storage Solutions for a Virtual Environment
PRO+
Content
Find more PRO+ content and other member only offers, here.