Essential Guide
VMware VSAN features and realities
A comprehensive collection of articles, videos and more, hand-picked by our editors
Q
Are there guidelines for determining if VMware vSAN is right for us?
Expert Brien Posey explains which types of environments VMware's virtual SAN is most beneficial in and which environments can do without it.
FROM THE ESSENTIAL GUIDE:
What guidelines, if any, are there for determining if VMware Virtual SAN is right for our environment?
The first thing you need to know about VMware's Virtual SAN (vSAN) feature is that it's not a true SAN. A hardware-based SAN allows you to provision storage and then use that storage however you want. A VMware vSAN, on the other hand, can only be used for storing virtual machines. If you have physical servers in your environment, those servers can't connect to a virtual SAN and use it for storage as they would be able to with a traditional SAN.

Download this free guide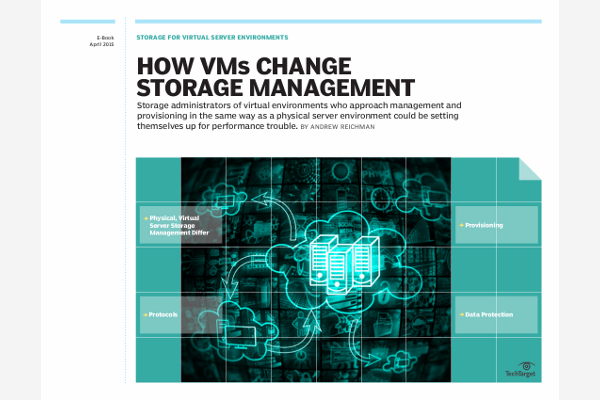 Free download: A complete guide to storage for virtual environments
Many storage admins consider virtual servers for a boost in agility – which is essential when supporting remote offices, new business applications, and unbridled data growth. But, if you're thinking of approaching your virtual environments with the same old storage strategy as your physical servers, then you're setting yourself up for a series of performance and capacity issues down the road. Download this invaluable guide, featuring expert tips and advice to help you architect the best storage management strategy for virtual environments.
By submitting your email address, you agree to receive emails regarding relevant topic offers from TechTarget and its partners. You can withdraw your consent at any time. Contact TechTarget at 275 Grove Street, Newton, MA.
You also agree that your personal information may be transferred and processed in the United States, and that you have read and agree to the Terms of Use and the Privacy Policy.

A VMware vSAN is just a VMware cluster in which the various cluster nodes provide storage capacity. Each cluster node must contain at least one SATA or SAS disk (aside from the one the hypervisor is installed on) and one enterprise-grade solid-state drive (SSD). The vSAN software pools the available hard disk drives from across the clustered hosts and makes them available as vSAN storage.
Although at least one SSD is required in each clustered host, the SSD isn't used to provide capacity. Instead, it's used for caching purposes as a way to speed up read and write I/O.
VMware's vSAN software is based around the use of direct-attached storage. If you've already invested heavily in a physical SAN environment and typically use 1U servers with very limited internal storage, VMware vSAN might not be the best choice for your environment. On the other hand, organizations that lack the budget, expertise or desire to deploy a physical SAN could benefit from a vSAN because it provides SAN-like functionality without requiring dedicated hardware.
It's also worth noting that VMware envisions scenarios in which vSANs could coexist with physical SANs. Until then, the best thing you can do is to compare its limitations to your company's limitations and try to determine whether it can satisfy a business need you can't otherwise meet.
PRO+
Content
Find more PRO+ content and other member only offers, here.
There are many factors -- beyond the obvious ones of cost and performance -- that determine whether you should choose a flash storage backup option.continue reading
Booting to Safe Mode isn't the same process in Windows 10 as it was in older versions of the operating system.continue reading
Wi-Fi Sense is a feature in Windows 10 that lets users share network passwords with their contacts. Disable the feature to stop unauthorized users ...continue reading
Have a question for an expert?
Please add a title for your question
Get answers from a TechTarget expert on whatever's puzzling you.