Essential Guide
Hyper-V and vSphere storage APIs: Tailoring your virtual environment
A comprehensive collection of articles, videos and more, hand-picked by our editors
Q
How does VMware VDPA work with VMware's vSAN?
VSphere Data Protection Advanced is currently the primary product for backing up VMs running on VMware's vSAN. Brien Posey explains how it works.
FROM THE ESSENTIAL GUIDE:
How does VMware vSphere Data Protection Advanced work with VMware Virtual SAN?
Because VMware's Virtual SAN (vSAN) feature is so new, most backup vendors have not yet released versions of their products that are specifically intended for vSAN backups. This will surely change over time, but for right now the primary product to back up virtual machines running on a vSAN is a VMware product called vSphere Data Protection Advanced (VDPA) 5.5.6. This particular vSphere Data Protection release is specifically designed to support vSANs.

Download this free guide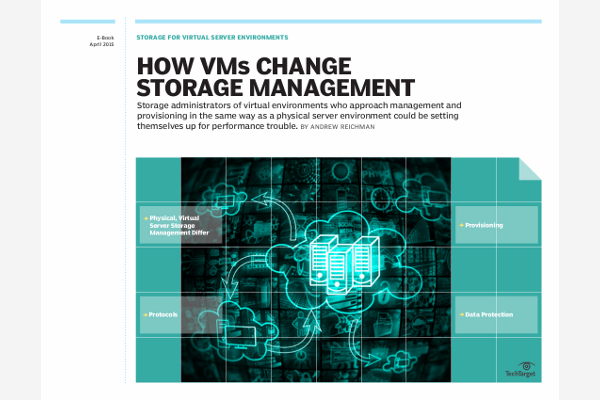 Free download: A complete guide to storage for virtual environments
Many storage admins consider virtual servers for a boost in agility – which is essential when supporting remote offices, new business applications, and unbridled data growth. But, if you're thinking of approaching your virtual environments with the same old storage strategy as your physical servers, then you're setting yourself up for a series of performance and capacity issues down the road. Download this invaluable guide, featuring expert tips and advice to help you architect the best storage management strategy for virtual environments.
By submitting your email address, you agree to receive emails regarding relevant topic offers from TechTarget and its partners. You can withdraw your consent at any time. Contact TechTarget at 275 Grove Street, Newton, MA.
You also agree that your personal information may be transferred and processed in the United States, and that you have read and agree to the Terms of Use and the Privacy Policy.

The interesting thing about VMware VDPA is that it exists as a virtual appliance, so it could theoretically reside on the same vSAN that it's protecting. However, this isn't a best practice, as you never want to end up in a situation in which your backup resides on the same storage as the data it's protecting.
The good news is that VMware VDPA is fairly flexible and gives you a number of different options for protecting data. For example, one option allows users to create backups locally and then use the backup data replication feature to replicate the backup to a secondary vSphere Data Protection appliance, which is connected to a separate storage architecture.
Just because VDPA can make use of a vSAN, doesn't mean it has to. VDPA can write to a number of different types of backup targets. For instance, you can use a virtual disk hosted on NFS storage as a backup target. Similarly, VDPA supports tape backup.
It's worth noting that VDPA can be used as a front end to EMC Data Domain systems. EMC Data Domain software is integrated into VDPA. The only thing to remember is that the Data Domain Boost software must be licensed separately.
About the expert:
Brien Posey is a Microsoft MVP with two decades of IT experience. Before becoming a freelance technical writer, Brien worked as a CIO for a national chain of hospitals and health care facilities. He has also served as a network administrator for some of the nation's largest insurance companies and for the Department of Defense at Fort Knox.
PRO+
Content
Find more PRO+ content and other member only offers, here.
The new version of PowerShell in Windows 10 makes it easier than ever to interact with the clipboard using a few simple commands.continue reading
My users can send email messages from Exchange Server, but cannot receive messages from external senders. How can I resolve these inbound mail flow ...continue reading
There are many factors -- beyond the obvious ones of cost and performance -- that determine whether you should choose a flash storage backup option.continue reading
Have a question for an expert?
Please add a title for your question
Get answers from a TechTarget expert on whatever's puzzling you.