Essential Guide
Hyper-V and vSphere storage APIs: Tailoring your virtual environment
A comprehensive collection of articles, videos and more, hand-picked by our editors
Q
Virtual machine storage simplified in Hyper-V 3.0
Hyper-V 3.0 simplifies virtual machine storage by eliminating Cluster Shared Volumes requirement and adding option to use file servers for storage.
FROM THE ESSENTIAL GUIDE:
How have the options for VM storage changed with Hyper-V 3.0?
In Hyper-V versions prior to 3.0, the options for virtual machine storage are somewhat limited. If a Hyper-V server is not a part of a cluster, virtual machines usually reside on direct-attached storage (although SAN storage is supported). This could be anything from an internal storage array to individual physical hard disks.

Download this free guide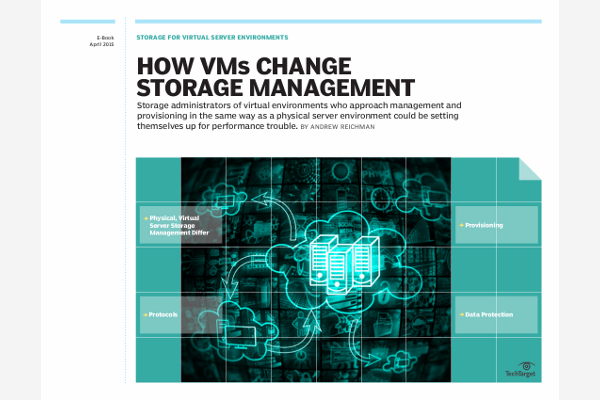 Free download: A complete guide to storage for virtual environments
Many storage admins consider virtual servers for a boost in agility – which is essential when supporting remote offices, new business applications, and unbridled data growth. But, if you're thinking of approaching your virtual environments with the same old storage strategy as your physical servers, then you're setting yourself up for a series of performance and capacity issues down the road. Download this invaluable guide, featuring expert tips and advice to help you architect the best storage management strategy for virtual environments.
By submitting your email address, you agree to receive emails regarding relevant topic offers from TechTarget and its partners. You can withdraw your consent at any time. Contact TechTarget at 275 Grove Street, Newton, MA.
You also agree that your personal information may be transferred and processed in the United States, and that you have read and agree to the Terms of Use and the Privacy Policy.

Before the release of Hyper-V 3.0, clustered Hyper-V servers were required to use shared storage. Shared storage involves connecting individual cluster nodes to a Cluster Shared Volume through either iSCSI or Fibre Channel. Naturally, this type of storage is expensive and is typically beyond the financial reach of smaller organizations.
Microsoft has designed Hyper-V 3.0 to be much more flexible in terms of the types of storage that are supported. Even though Cluster Shared Volumes are still the preferred type of storage for Hyper-V, in Version 3.0 they are far from being the only option.
One of the new storage options involves storing virtual machines on file servers. This allows a virtual machine to make use of centrally accessible storage without requiring the organization to build a dedicated Cluster Shared Volume.
Of course, not just any file server is suitable for virtual machine storage. In fact, Microsoft requires the file server to use the SMB version 2.2 protocol, which is more robust than prior versions -- with enough extra bandwidth and resiliency against network failures that, with the upgraded protocol, Microsoft will support storing virtual machines on file servers. (The extra bandwidth comes from SMB 2.2's multichannel nature; if multiple paths exist between a source and a destination, the protocol can utilize those paths to increase the overall bandwidth.)
PRO+
Content
Find more PRO+ content and other member only offers, here.
The new version of PowerShell in Windows 10 makes it easier than ever to interact with the clipboard using a few simple commands.continue reading
My users can send email messages from Exchange Server, but cannot receive messages from external senders. How can I resolve these inbound mail flow ...continue reading
There are many factors -- beyond the obvious ones of cost and performance -- that determine whether you should choose a flash storage backup option.continue reading
Have a question for an expert?
Please add a title for your question
Get answers from a TechTarget expert on whatever's puzzling you.