Fibre Channel port names
Fibre Channel port names
Looking for something else?
TECHNOLOGIES
A Fibre Channel (FC) port is a hardware pathway into and out of a node that performs data communications over an FC link. (An FC link is sometimes called an FC channel.)
Defining Virtual Storage: The 10 Most Popular Virtual Storage Terms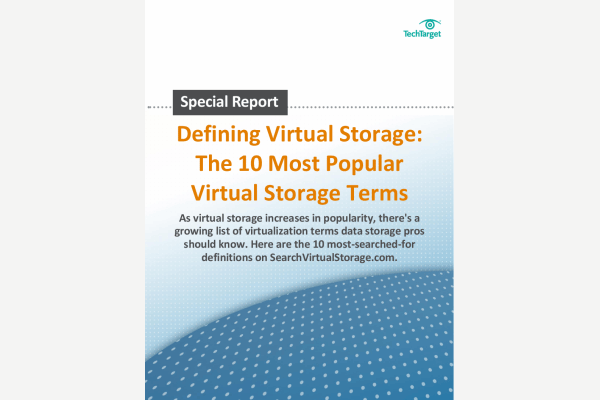 As virtual storage increases in popularity, there's a growing list of virtualization terms that are used on a more frequent basis. In this Special Report, you'll uncover 10 of the most critical virtual storage terms every IT pro needs to know today.
By submitting your personal information, you agree to receive emails regarding relevant products and special offers from TechTarget and its partners. You also agree that your personal information may be transferred and processed in the United States, and that you have read and agree to the Terms of Use and the Privacy Policy.

| Port | Full Name | Port Function |
| --- | --- | --- |
| N-port | network port or node port | Node port used to connect a node to a Fibre Channel switch |
| F-port | fabric port | Switch port used to connect the Fibre Channel fabric to a node |
| L-port | loop port | Node port used to connect a node to a Fibre Channel loop |
| NL-port | network + loop port | Node port which connects to both loops and switches |
| FL-port | fabric + loop port | Switch port which connects to both loops and switches |
| E-port | extender port | Used to cascade Fibre Channel switches together |
| G-port | general port | General purpose port which can be configured to emulate other port types |
| EX_port | external port | Connection between a fibre channel router and a fibre channel switch; on the switch side, it looks like a normal E_port -- but on the router side, it is a EX_port |
| TE_port | trunking E-port | Povides standard E_port functions and allows for routing of multiple virtual SANs by modifying the standard Fibre Channel frame upon ingress/egress of the VSAN environment |
Continue Reading About Fibre Channel port names
Dig Deeper on SAN Virtualization and SAN Storage Consolidation