Definition
raw device mapping (RDM)
Raw device mapping (RDM) is an option in the VMware server virtualization environment that enables a storage logical unit number (LUN) to be directly connected to a virtual machine (VM) from the storage area network (SAN).
Free Download: A buyer's checklist to backing up virtual servers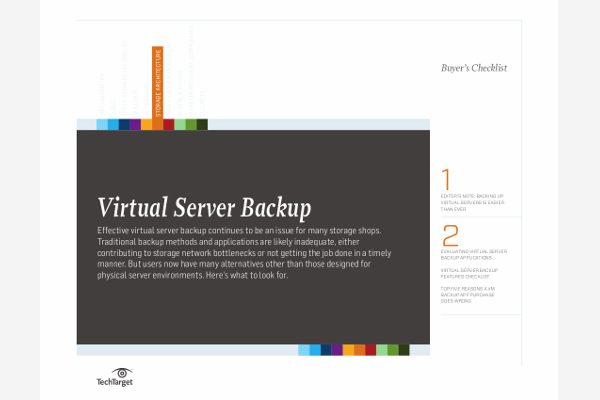 A comprehensive, modern backup strategy is able to support both physical and virtual servers. Luckily, the days of force-fitting your traditional backup applications onto virtual environment are behind us since almost every backup application available today is able to support full backups and snapshots at both the server and VM level. Download this buyer's checklist to evaluate the key features, priorities, and benefits of each VM backup app to help you choose the best tools and strategies for your organization.
By submitting your email address, you agree to receive emails regarding relevant topic offers from TechTarget and its partners. You can withdraw your consent at any time. Contact TechTarget at 275 Grove Street, Newton, MA.
You also agree that your personal information may be transferred and processed in the United States, and that you have read and agree to the Terms of Use and the Privacy Policy.

RDM is one of two methods for enabling disk access in a virtual machine. The other method is Virtual Machine File System (VMFS). While VMFS is recommended by VMware for most data center applications (including databases, customer relationship management (CRM)applications and enterprise resource planning (ERP) applications, RDM can be used for configurations involving clustering between virtual machines, between physical and virtual machines or where SAN-aware applications are running inside a virtual machine.
According to a 2008 VMware Performance Study comparing VMFS and RDM on ESX Server 3.5: "For random workloads, VMFS and RDM produce similar input/output (I/O) throughput. For sequential workloads with small I/O block sizes, RDM provides a small increase in throughput compared to VMFS. However, the performance gap decreases as the I/O block size increases. For all workloads, RDM has slightly better CPU cost."
RDM, which permits the use of existing SAN commands, is generally used to improve performance in I/O-intensive applications. RDM can be configured in either virtual compatibility mode or physical compatibility mode. Virtual mode provides benefits found in VMFS, such as advanced file locking and snapshots. Physical mode provides access to most hardware functions of the storage system that is mapped.
This was first published in
February 2012
Continue Reading About raw device mapping (RDM)
Dig Deeper on Data Storage Solutions for a Virtual Environment
PRO+
Content
Find more PRO+ content and other member only offers, here.