VMware VADP (VMware vStorage API for Data Protection) definition
VMware VADP is a VMware vStorage API that backs up and restores vSphere virtual machines (VMs). VADP was introduced in vSphere 4 and replaces the VMware Consolidated Backup (VCB) framework.
Download: Where should you put your desktop?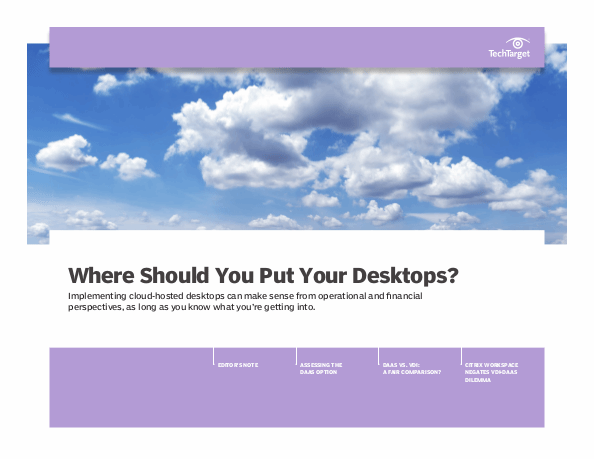 Discover why you should -- or shouldn't -- move to cloud-hosted desktops. This handbook outlines how DaaS differs from Windows as a service and from other forms of virtual desktop infrastructure.
By submitting your email address, you agree to receive emails regarding relevant topic offers from TechTarget and its partners. You can withdraw your consent at any time. Contact TechTarget at 275 Grove Street, Newton, MA.
You also agree that your personal information may be transferred and processed in the United States, and that you have read and agree to the Terms of Use and the Privacy Policy.

Unlike VCB, which required users to install a separate component on the VCB proxy server, VADP is part of the backup product.
VADP backs up vSphere VMs from a central backup server or VM without backup agents, and does not require backup processing to be done inside each guest VM on the ESX host. This offloads backup processing from ESX hosts and allows each ESX host to run more VMs.
Changed Block Tracking (CBT) is a VADP feature that allows the VMkernel to track blocks that have changed. When an incremental backup needs to be performed, the blocks that need to be backed up can be quickly identified by the VMkernel, which improves incremental backup and replication times.
Continue Reading About VMware VADP (VMware vStorage API for Data Protection)
PRO+
Content
Find more PRO+ content and other member only offers, here.