vStorage API for Multipathing (VAMP) definition
vStorage API for Multipathing (VAMP) is a set of application program interfaces (APIs) from VMware that help to control I/O path selection in a host to storage devices.
Download: Where should you put your desktop?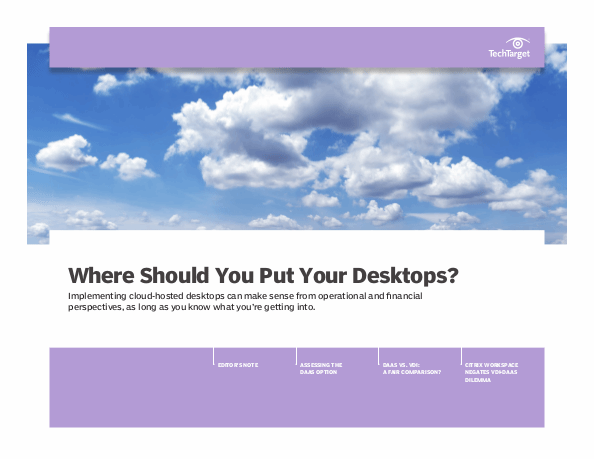 Discover why you should -- or shouldn't -- move to cloud-hosted desktops. This handbook outlines how DaaS differs from Windows as a service and from other forms of virtual desktop infrastructure.
By submitting your email address, you agree to receive emails regarding relevant topic offers from TechTarget and its partners. You can withdraw your consent at any time. Contact TechTarget at 275 Grove Street, Newton, MA.
You also agree that your personal information may be transferred and processed in the United States, and that you have read and agree to the Terms of Use and the Privacy Policy.

The multipathing APIs provide storage path failover, thereby optimizing storage I/O throughput and adding intelligence beyond the default pathing policies used by storage devices.
For a storage administrator to make use of vStorage APIs for Multipathing, the manufacturer of his storage system must have built support for VAMP into the storage system. vStorage APIs for Multipathing are coordinated in vSphere through a special framework in the VMkernel called the Pluggable Storage Architecture (PSA). The PSA acts as a base for two types of storage plug-ins: VMware's Native Multipathing Plug-in (NMP) and a third-party vendor's Multipathing Plug-in (MPP). NMP itself acts as a management layer for additional sub-plug-ins: Storage Array Type Plug-in (SATP) and Path Selection Plug-ins (PSP). These plug-ins make up VAMP. They decide which paths should be taken, monitor the health and state of each physical path used by storage I/O and activate inactive paths when needed.
VAMP was introduced in vSphere 4.0.
Continue Reading About vStorage API for Multipathing (VAMP)
PRO+
Content
Find more PRO+ content and other member only offers, here.