virtual LUN or thin LUN definition
A virtual LUN (virtual logical unit number) is a representation of a storage area that is not tied to any physical storage allocation. Virtual LUNs are used in thin provisioning (also known as virtual provisioning) for storage area network (SAN) management. A virtual LUN is also sometimes called a thin LUN.
Free Download: A buyer's checklist to backing up virtual servers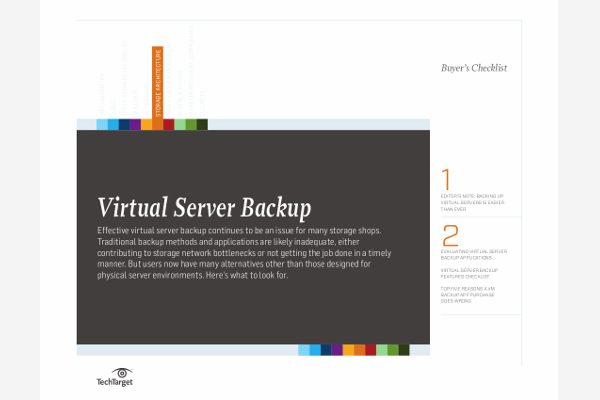 A comprehensive, modern backup strategy is able to support both physical and virtual servers. Luckily, the days of force-fitting your traditional backup applications onto virtual environment are behind us since almost every backup application available today is able to support full backups and snapshots at both the server and VM level. Download this buyer's checklist to evaluate the key features, priorities, and benefits of each VM backup app to help you choose the best tools and strategies for your organization.
By submitting your email address, you agree to receive emails regarding relevant topic offers from TechTarget and its partners. You can withdraw your consent at any time. Contact TechTarget at 275 Grove Street, Newton, MA.
You also agree that your personal information may be transferred and processed in the United States, and that you have read and agree to the Terms of Use and the Privacy Policy.

A logical unit number (LUN) is a unique identifier for a physical storage allocation. A LUN could reference an entire RAID set, a single hard disk or partition, or multiple disks or partitions. Unlike a physical LUN, the virtual LUN does not map to a specific device or allocation of storage space but a virtualized space that can be created in excess of the actual physical space available.
In a SAN, hard disks are stored in physical racks. The number of physical LUNs that can be created is limited by the amount of space available and the RAID level. Virtual LUNs remove that limitation. Because virtual LUNs are not tied to physical devices or allocations, an administrator can create large numbers of them that will be allocated only when the data is written. That capacity helps optimize storage utilization because space is not allocated and then sitting idle. Virtual LUNs also increase fault tolerance because data is written across multiple disks.
See also: virtualization, storage virtualization, storage provisioning, virtual provisioning
Continue Reading About virtual LUN or thin LUN
PRO+
Content
Find more PRO+ content and other member only offers, here.