virtual storage definition
Virtual storage is the pooling of physical storage from multiple network storage devices into what appears to be a single storage device that is managed from a central console.
Free Download: A buyer's checklist to backing up virtual servers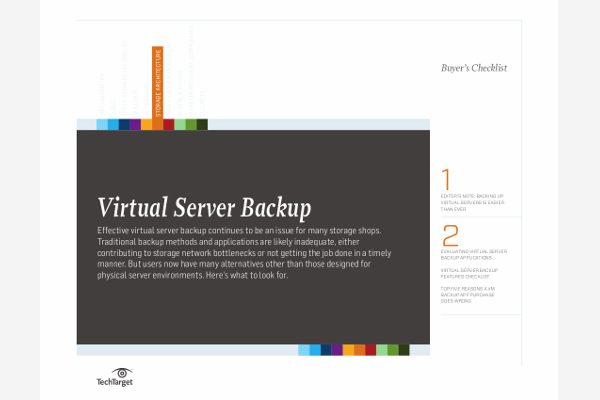 A comprehensive, modern backup strategy is able to support both physical and virtual servers. Luckily, the days of force-fitting your traditional backup applications onto virtual environment are behind us since almost every backup application available today is able to support full backups and snapshots at both the server and VM level. Download this buyer's checklist to evaluate the key features, priorities, and benefits of each VM backup app to help you choose the best tools and strategies for your organization.
By submitting your email address, you agree to receive emails regarding relevant topic offers from TechTarget and its partners. You can withdraw your consent at any time. Contact TechTarget at 275 Grove Street, Newton, MA.
You also agree that your personal information may be transferred and processed in the United States, and that you have read and agree to the Terms of Use and the Privacy Policy.

Storage virtualization software converts a server, typically an X86 server, into a storage controller and the storage inside the server into the storage system. The benefit of virtualization is that commodity hardware or less-expensive storage can be used to provide enterprise-class functionality. Storage virtualization also helps the storage administrator perform the tasks of backup, archiving, and recovery more easily -- and in less time -- by disguising the actual complexity of a storage area network (SAN).
Enterprise virtual storage products include Hitachi Data Systems' Virtual Storage Platform (VSP), IBM SAN Volume Controller (SVC) and NetApp V-Series. Software-based virtual storage appliances such as HP's Lefthand or DataCore Software's SANsymphony are also options for provisioning and working with virtual storage.
See also: storage virtualization, software-defined storage, storage hypervisor
Continue Reading About virtual storage
Dig Deeper on SAN Virtualization and SAN Storage Consolidation
PRO+
Content
Find more PRO+ content and other member only offers, here.