Hyper-V and vSphere storage APIs: Tailoring your virtual environment
Popular hypervisors use APIs to increase integration with storage. Use this guide to learn how Hyper-V and VMware APIs can be used to your benefit by improving storage management, backup, performance and scalability.
Introduction
When looking at the feature set released with the latest versions of vSphere and Hyper-V, it's clear the vendors understand that storage integration in virtual server environments is a top priority for IT professionals. At a time when storage technologies that work with virtual machines -- such as virtual machine-aware or hyper-converged options -- are garnering more interest, more storage vendors are supporting the application programming interfaces that allow tighter integration between virtual servers and their products.
With vSphere 5, VMware provided more application programming interfaces (APIs) aimed at improving storage management, data protection, workload balancing and cloud integration. Microsoft offers a very similar feature set with Hyper-V 3.0, which provides administrators with greater control over their use of capacity, data movement and overall performance.
Whether it's vSphere or Hyper-V, there's a lot to consider when it comes to working with these storage APIs. To help explain what these storage APIs can do, SearchVirtualStorage compiled this essential guide of expert tips and advice. Learn the functions of the most prominent storage APIs and their features, best practices for working with them and how they can be used to troubleshoot problems in your environment.
1

Definitions

-
Standout storage APIs: A glossary
This glossary offers an overview of some of the Hyper-V and VMware features and APIs that have garnered the most attention.
2

Vetting VMware

-
VMware storage APIs provide data protection, management opportunities
VSphere storage APIs can be beneficial as long as the arrays you're working with support them. VSphere 5 offered APIs that improved several different aspects of storage, such as the vStorage APIs for Array Integration (VAAI), which accelerate processes by offloading them from the hypervisor to the storage. Also new in vSphere 5 was an upgraded API for data protection, as well as the vStorage APIs for Storage Awareness (VASA), a set of APIs used to help administrators and hypervisors place data more intelligently. In the links below, you'll find detailed descriptions of VMware's most prominent storage APIs and what can be accomplished with them.

Download this free guide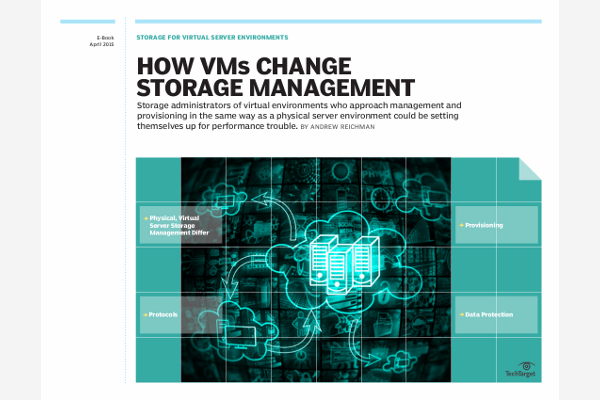 Free download: A complete guide to storage for virtual environments
Many storage admins consider virtual servers for a boost in agility – which is essential when supporting remote offices, new business applications, and unbridled data growth. But, if you're thinking of approaching your virtual environments with the same old storage strategy as your physical servers, then you're setting yourself up for a series of performance and capacity issues down the road. Download this invaluable guide, featuring expert tips and advice to help you architect the best storage management strategy for virtual environments.
By submitting your email address, you agree to receive emails regarding relevant topic offers from TechTarget and its partners. You can withdraw your consent at any time. Contact TechTarget at 275 Grove Street, Newton, MA.
You also agree that your personal information may be transferred and processed in the United States, and that you have read and agree to the Terms of Use and the Privacy Policy.

3

Hyper-V application

-
Newest Hyper-V features simplify storage management
Similar to VMware, some of Hyper-V's most beneficial features improve storage management and data placement. The Offloaded Data Transfer (ODX) feature is comparable to VMware's VAAI, as it speeds certain operations by performing them at the storage level. And Hyper-V's storage thin provisioning feature claims capacity on an as-needed basis, providing a result similar to that of VMware's VASA. These tips provide an overview and analysis of the newest storage features Hyper-V users will find in the 3.0 release and Windows Server 2012 R2.
4

APIs in action

-
Management and troubleshooting tips for Hyper-V and VMware APIs
Now that you have a grasp on how these storage APIs and features work, explore some expert tips on the differences between the two hypervisors and the practical applications of each.