Atlantis Computing Inc.'s ILIO Diskless Virtual Desktop Infrastructure (VDI) 3.0 is garnered silver in the storage system software category in Storage magazine's/SearchStorage.com's 2012 Products of the Year competition. Read our best data storage products guide of 2012 to get more information on all the winners. 
Atlantis ILIO Diskless VDI 3.0 scored the highest average marks for performance of all the entries in the storage system software category. The software reduces the size of virtual desktop images, making it possible to store them in the local server's memory, rather than disk drives, and to reduce their boot time.
One judge on our panel called Atlantis ILIO Diskless VDI software "highly innovative software that reduces VDI infrastructure requirements and admin manual-labor-intensive tasks." The judge viewed the product as the "true definition of doing more with less: higher performance at lower cost."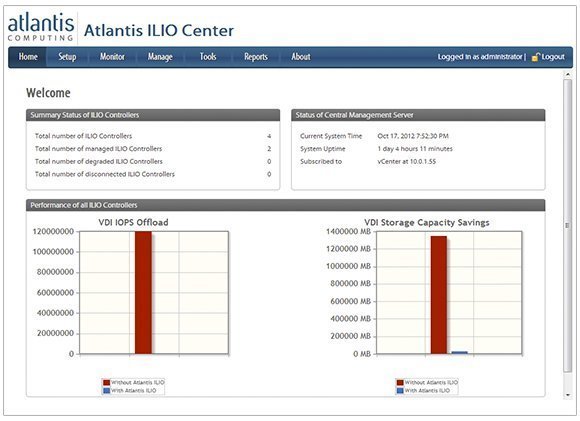 Atlantis ILIO Diskless VDI is installed on each physical server that runs virtual desktops. The software requires a Citrix XenServer, Microsoft Hyper-V or VMware vSphere hypervisor. When deployed, Atlantis ILIO Diskless VDI becomes the NFS or iSCSI data store for Citrix XenDesktop or VMware View virtual desktops.
Product features include inline deduplication, in-memory compression, automation of installation and configuration, and content-aware analysis of I/O operations in real-time at the NTFS file-system and block levels.
Find out the other winners in the Enterprise Storage System Software category.
This was first published in February 2013