This article can also be found in the Premium Editorial Download "Storage magazine: Salaries up for storage pros."
Download it now to read this article plus other related content.
Have you virtualized desktops at your company? Find out what our survey respondents have to say about implementing a virtual desktop infrastructure and how it's affected their storage choices.
It's common knowledge that implementing a virtual desktop infrastructure (VDI) requires some creative thinking when it comes to storage. Our latest survey reveals that 42% of respondents have virtualized at least some of their companies' desktops -- a pretty high number given the impact of desktop virtualization, but only about half the number who say they've virtualized servers (83%). Those who have taken the VDI plunge have virtualized an average of 35% of their company's total desktops; but 75% of those companies have 200 or fewer virtualized desktops. Still, desktop virtualizers have been doing some shopping -- 53% bought a new storage system for their VDI project and 34% splurged on solid-state storage. Fibre Channel arrays are the preferred systems, and solid-state was most often implemented in the form of a hybrid array. Nearly half (48%) said they also picked up some configuration or management software to help with the implementation. Forty-seven percent of those who haven't virtualized desktops don't see any particular need for it, but 18% of non-virtualizers say they'll do it within the next 12 months.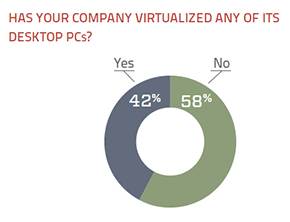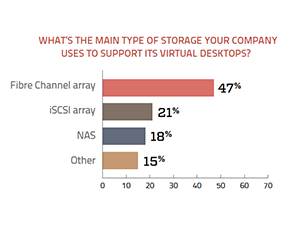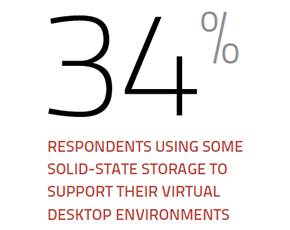 About the author: 
Rich Castagna is editorial director of TechTarget's Storage Media Group.
This was first published in October 2012