File virtualization tops hot technology index
The latest report from research firm TheInfoPro reveals file virtualization products are a hot commodity among the Fortune 1000, but many deployments are for one-time projects.
Looking for something else?
Research firm TheInfoPro reports that file virtualization products are topping the company's "heat index" of hot technologies among Fortune 1000 businesses, according to its latest study.

Download this free guide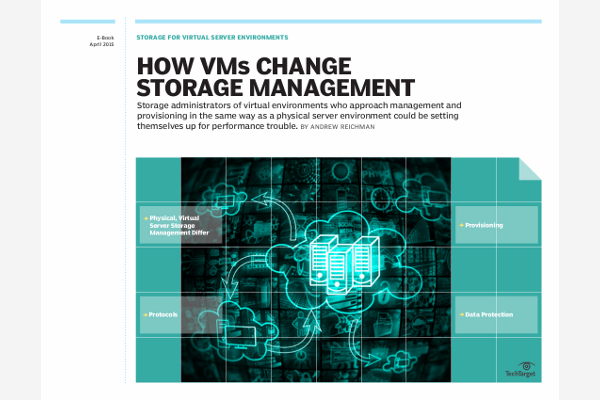 Free download: A complete guide to storage for virtual environments
Many storage admins consider virtual servers for a boost in agility – which is essential when supporting remote offices, new business applications, and unbridled data growth. But, if you're thinking of approaching your virtual environments with the same old storage strategy as your physical servers, then you're setting yourself up for a series of performance and capacity issues down the road. Download this invaluable guide, featuring expert tips and advice to help you architect the best storage management strategy for virtual environments.
Results of the report, published this week, show that file virtualization moved into the top position on TheInfoPro's Storage Technology Heat Index, which measures users' reported spending and implementation plans and is based on interviews with hundreds of Fortune 1000 IT professionals.
"File virtualization beat archiving, data classification, encryption and ILM to the top spot," said Robert Stevenson, managing director of TheInfoPro's storage sector. He attributes the interest in file virtualization to network attached storage (NAS) growth in the data center, with average capacity deployments in the last month at 220 terabytes (TB) and the long project timelines needed for block virtualization. "Storage professionals have been focusing their near-term energies and budgets on improving file content management," Stevenson said.
File virtualization "is the most simplistic of virtualization technologies to deploy, as you don't have to coordinate with database administrators (DBA) …The block side has a larger number of compatibility issues to navigate with host bus adapters (HBA), multipathing software, storage switches and the storage arrays themselves," he said. On average, the study found that users are making three-to-nine filer moves per year "to free up older, legacy op-ex costs."
Somewhat surprisingly, TheInfoPro's study also revealed that EMC Corp.'s Rainfinity product is the leading "in use" file virtualization technology, followed by Network Appliance Inc. (NetApp). EMC jumped into the market in August 2005 with the acquisition of Rainfinity Inc., while NetApp has been reselling NuView Inc.'s file virtualization and global namespace technology, dubbed Virtual File Manager (VFM), since October 2002. More recently, Brocade Communications Inc. acquired NuView.
Stevenson said there's a difference in how users are adopting the technology. "People are using Rainfinity to move content from one filer to another; they haven't deployed it as a continuous virtualization solution," he said. "It's a technology to help with a transition, not a permanent infrastructure change." Other analysts noted that EMC is most likely using Rainfinity as a professional services tool to perform migrations for customers, as opposed to users actually buying the product. Other companies cited in the report for file virtualization include Acopia Networks Inc., Cisco Systems Inc., NeoPath Networks Inc. and Microsoft.
Brad O'Neill, senior analyst at the Taneja Group, added that end-user surveys can often be "popularity quizzes" in which the market leader often gets the most recognition even though it might not even have a product in a certain category. "It doesn't surprise me that EMC would win this popularity contest as they are putting a lot of attention behind file virtualization and Rainfinity," he said. "EMC is very aggressive when they acquire a company. Look at Centera, before anyone knew it, they had a billion dollar product line."
While file virtualization has moved up in TheInfoPro's technology heat index, Stevenson noted that there's still plenty of room for improvement in these products. The next generation of file virtualization products will need to include deduplication and a data classification ability embedded into file virtualization. "No one has all those pieces in one product yet," he said.
Furthermore, Acopia officials note that there are no standards around this technology yet, so every file virtualization and namespace technology has a different way of talking to storage services, like replication, backup and data classification, making it harder for users to learn the technology. Acopia, Brocade and Microsoft are discussing a potential standards effort to create an open protocol or application program interface (API) for linking global namespaces with storage services, but this plan is still in its very early days, and nothing concrete has emerged yet.
Dig Deeper on File Virtualization or NAS Virtualization
PRO+
Content
Find more PRO+ content and other member only offers, here.