Colonial Williamsburg virtualizes with Acopia
The living history museum is designed to show customers the 18th century, but behind the scenes, the business is implementing tiered storage using 21st-century file virtualization.
Looking for something else?
If you go to Williamsburg, Va. on the right day of the year, it'll still be 1776. Hundreds of actors, called interpreters, inhabiting the preserved 18th-century town will be reenacting the day when news of the Declaration of Independence reached the area. On another day, the news might be of the Boston Tea Party or of the battles of Lexington and Concord.

Download this free guide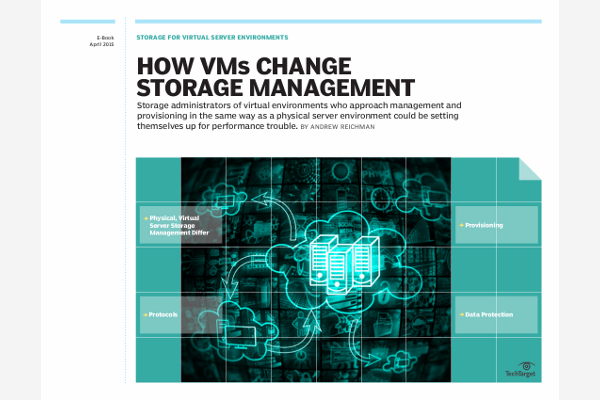 Free download: A complete guide to storage for virtual environments
Many storage admins consider virtual servers for a boost in agility – which is essential when supporting remote offices, new business applications, and unbridled data growth. But, if you're thinking of approaching your virtual environments with the same old storage strategy as your physical servers, then you're setting yourself up for a series of performance and capacity issues down the road. Download this invaluable guide, featuring expert tips and advice to help you architect the best storage management strategy for virtual environments.
By submitting your email address, you agree to receive emails regarding relevant topic offers from TechTarget and its partners. You can withdraw your consent at any time. Contact TechTarget at 275 Grove Street, Newton, MA.
You also agree that your personal information may be transferred and processed in the United States, and that you have read and agree to the Terms of Use and the Privacy Policy.

But behind the carefully preserved historical artifacts and performance is a very modern corporate conglomerate, headed by The Colonial Williamsburg Foundation, a nonprofit that has some 1,400 employees and manages businesses from souvenir catalogs to the five hotels on the property with more than 1,000 rooms. This foundation has close to 40 terabytes (TB) of storage, including three 1.2 TB Network Appliance Inc. (NetApp) FAS250 filers and a 32 TB NetApp R200 nearline box, which are used to store data that spans the gamut from high-resolution promotional photographs to personal documents folders.
Last summer, Colonial Williamsburg found it was in danger of exceeding the capacity of the FAS250s, but an analysis of the data showed that 90% of it was more than 90 days old and should be on the R200, which the company uses for secondary storage and archiving.
"We wanted something that would not mean we had to replace our entire NetApp environment, but would make migration simpler between those different filers," said Sean Maisey, manager of IT operations and engineering for The Colonial Williamsburg Foundation. After a long purchasing process, the foundation decided on, and has begun to install, Acopia Networks Inc.'s ARX virtualization switch to address this problem.
The switch sits in front of the NetApp filers and assumes the filer alias users already know -- so if a user knows a file is on NetApp 3, the actual NetApp 3 is renamed, and Acopia assumes the NetApp 3 name. Thus, the user can continue saving and accessing files to NetApp 3 without ever knowing that the Acopia system is actually sending them to the Tier-2 R200 box. Meanwhile, for Maisey and his staff, the Acopia switch will migrate the data automatically according to policy. Currently, he said, Colonial Williamsburg has one of the FAS250s set up behind the Acopia switches; the system was first installed right before Christmas.
The switch will also be a help when it comes to maintenance, Maisey said. "Right now if we need to migrate files or do work on a box, we have to tell our users their files won't be available during a certain window, like between 12 a.m. and 6 a.m., and then take them offline," he said. "Once we get the Acopia set up, we'll just be able to put all the data from a filer onto the R200 and take it offline for a couple of days if we have to, with the end users none the wiser."
The foundation considered replacing the NetApp filers with clustered systems from Isilon Systems Inc., but decided against it as it would have meant a costly rip and replace of its entire storage environment.
"The Isilon system, for the amount of storage we need, would have cost between $300,000 and $400,000," Maisey said, compared with the dual Acopia switches, which he said cost around $100,000. "And we would still have needed a way to migrate the data over to [the Isilon system]."
The selection of Acopia, Maisey said, also allowed him to solve his space problem on the NetApp filers without totally ruling out Isilon. "The beauty of the Acopia is that I could still get Isilon somewhere down the road if we really want it," Maisey said.
The Acopia product promises that open files can be migrated without users ever knowing the difference, but for now, Maisey said he prefers to keep it safe by performing migrations during slow hours, usually between 4 a.m. and 5 a.m.
"They claim that you can migrate any time," he said. "But so far we've avoided that just for cautionary purposes -- there's a nice wow factor, but I really don't feel like pulling the switch on, say, an Easter weekend when our ticket lines are out to the parking lot."
One hitch with the Acopia is a compatibility problem that has arisen in places with Apple Macintosh workstations -- the Acopia system doesn't always recognize the Mac-to-PC file system conversion software (Thursby Software Systems Inc.'s DAVE product) Colonial Williamsburg is using, and the DAVE system doesn't always see the Acopia correctly. "We have less than 25 Macs," Maisey said. "So it's not a huge problem for us." And, he added, the problem has been worked around with basic troubleshooting so far.
What about the traditional fear about virtualization -- the fear of putting all the data eggs in one basket? "The risk of a hardware switch failure is not too great, since we have them in a dual high-availability configuration," Maisey said. "The worry would be about the Acopia database being corrupted or files misdirected."
But, he said, even in the worst case scenario, the Acopia could be ripped out of the environment if it totally malfunctions without any real data loss. "We would have to go back in and reshare files in the case of total disaster," Maisey said. "But we wouldn't really lose anything."
Dig Deeper on File Virtualization or NAS Virtualization
PRO+
Content
Find more PRO+ content and other member only offers, here.