Attune adds to its Maestro file virtualization software
Attune adds to its Maestro file virtualization product, enabling e-discovery and easier tiered backups.
Looking for something else?
Attune Networks Inc. is bumping up its file system search and migration capabilities in its Maestro file virtualization software, opening the door for e-discovery and easier backups of tiered data.

Download this free guide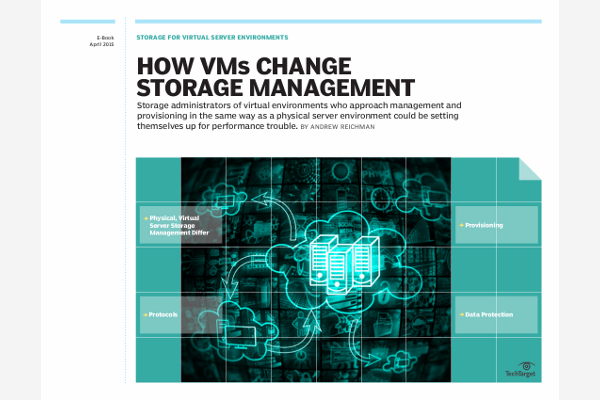 Free download: A complete guide to storage for virtual environments
Many storage admins consider virtual servers for a boost in agility – which is essential when supporting remote offices, new business applications, and unbridled data growth. But, if you're thinking of approaching your virtual environments with the same old storage strategy as your physical servers, then you're setting yourself up for a series of performance and capacity issues down the road. Download this invaluable guide, featuring expert tips and advice to help you architect the best storage management strategy for virtual environments.
By submitting your email address, you agree to receive emails regarding relevant topic offers from TechTarget and its partners. You can withdraw your consent at any time. Contact TechTarget at 275 Grove Street, Newton, MA.
You also agree that your personal information may be transferred and processed in the United States, and that you have read and agree to the Terms of Use and the Privacy Policy.

Maestro 2.5 allows users to search heterogeneous file systems by a particular file, as well as to migrate files based on lists generated by scripts, third-party data classification products or Attune's built-in search.
The ability to search for an individual's files, combined with classification, lets Attune get into e-discovery, but CEO Alan Kessler said Attune will partner, rather than build any more e-discovery capabilities into the product. "We are not looking to become an all-singing, all-dancing compliance company," he said. So far, however, the company has not announced any song or dance partnerships in this area. Kessler said he would be preannouncing new partner products if he divulged the names of its partners now.
The new features can also help users fine-tune backup policies. That is the use case envisioned by Zak Khalil, IT director of the Lessard Group Inc., a Vienna, Va.-based architectural firm. Khalil uses Maestro to create networked storage out of two large Hewlett-Packard Co. (HP) servers with direct-attached servers. Khalil's servers have a total capacity of about 6 TB, with only 2.3 TB used.
He wanted something to allow a larger namespace than the 2 TB supported by operating systems and wanted to improve storage utilization. Those are common reasons for choosing networked storage over DAS, but he didn't want to have to buy a whole new NAS system.
"We already had these servers, and they were less than two years old," Khalil said. "Buying more disk was not what we needed to do to solve the problem." Instead, he brought in the Attune system to link together the two DAS servers.
So far, the company only has about 40% of its environment virtualized behind the Attune system, though Khalil said that had more to do with scheduling problems than a technical problem with file virtualization. Lessard Group's users often work with large files from 100 MB to as large as 400 MB, and those files have proven too large in tests to scan in into the Attune system without causing performance disruptions for end users. The alternative is unplugging file servers from the network and back into the Attune box, and that requires downtime, which is where the scheduling problems come in.
Khalil said he's planning to upgrade to Maestro 2.5 so he can back up data according to tier. One of the servers he's running has SCSI disks and the other has SATA. Khalil said he'd like to treat the SCSI disk server as Tier 1 and the SATA as Tier 2.
The update, he said, "actually answers one of the questions I had a year ago -- what happens when you're backing up different tiers of storage? Can you restore according to tier?" At the time, that was something left to the end user.
Khalil said there are two other items on his Attune wish list: remote replication and off-site failover. "I would love it if they could come up with something to manage both storage and replication across multiple sites," he said.
An Attune spokesperson said the engineering team filed nine new patents yesterday, including some related to Khalil's requests.
Dig Deeper on File Virtualization or NAS Virtualization
PRO+
Content
Find more PRO+ content and other member only offers, here.