Storage virtualization, server virtualization shake hands
More data centers are virtualizing storage after implementing VMware for server virtualization.
Looking for something else?
TECHNOLOGIES
Server virtualization and storage virtualization are increasingly intersecting in data centers, especially with organizations looking to go green.

Companies are Increasingly following up VMware server virtualization implementations by virtualizing storage. That's not always by choice -- the more servers you virtualize, the more you need networked storage for efficiency.

Download this free guide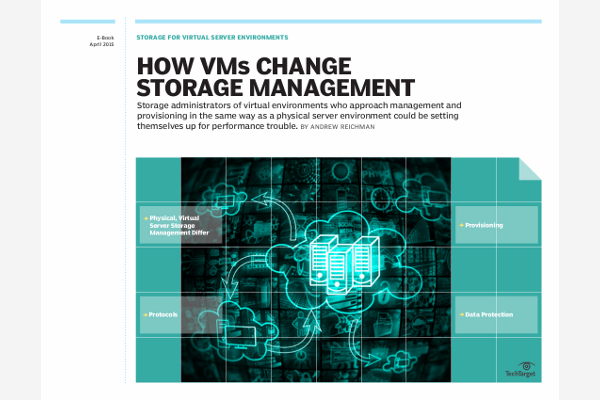 Free download: A complete guide to storage for virtual environments
Many storage admins consider virtual servers for a boost in agility – which is essential when supporting remote offices, new business applications, and unbridled data growth. But, if you're thinking of approaching your virtual environments with the same old storage strategy as your physical servers, then you're setting yourself up for a series of performance and capacity issues down the road. Download this invaluable guide, featuring expert tips and advice to help you architect the best storage management strategy for virtual environments.
By submitting your email address, you agree to receive emails regarding relevant topic offers from TechTarget and its partners. You can withdraw your consent at any time. Contact TechTarget at 275 Grove Street, Newton, MA.
You also agree that your personal information may be transferred and processed in the United States, and that you have read and agree to the Terms of Use and the Privacy Policy.

"Server virtualization is bringing storage virtualization to the fore," said analyst Arun Taneja of the Taneja Group. "People implement VMware and they say all of a sudden, 'This thing sucks, storage suddenly became a big bottleneck'. So they go out and buy new storage that provides thin provisioning or virtualizes storage inside the box."

Storage and server virtualization are dovetailing with another current trend: green storage. Companies are virtualizing storage for consolidation projects with data migration playing a major role there. Rich Jackson, vice president of technology operations at Hilton Grand Vacations, is virtualizing Hewlett-Packard Co. (HP) blade servers with VMware and migrating data between 3PAR. storage systems in two Orland, Fla., data centers as part of a green data center initiative.

"We faced a business problem where we're moving from one data center to the next, trying to consolidate and copying data everywhere," Jackson said. "As we're consolidating and rolling up different servers and virtualizing them, it made sense to do that with all data, too. We came into virtualization in steps. We were consolidating data centers, and it was a natural transition to move to blades. We bought those specifically to virtualize and connect to 3PAR storage. It gives us a high-availability model and [is] very manageable."

Storage virtualization also goes hand in hand with server virtualization in the state of Oregon's data center consolidation. Like Hilton Grand, Oregon uses VMware and blade servers (from IBM) to boot off the storage area network (SAN) after consolidating 11 data centers into one. But Oregon employs Hitachi Data Systems (HDS) array-based virtualization and virtual SANs (VSAN) to partition Cisco Systems Inc. Fibre Channel switches.

"VSANs allow us to segregate our SANs by agency, and each agency can manage its own storage pool," said Mark Reyer, Oregon's data center administrator. "Each agency has separate security requirements, and the compliance regulations are different for each agency. Human services have HIPAA, financial agencies have SOX, SAS and PCI [Security Standards Council], education has other requirements. We have every acronym you can think of for requirements. It also gives us flexibility for encryption. Agencies can encrypt if they want to or don't encrypt if they don't want to."

But storage vendors won't be able to ride VMware's coattails for long. VMware can enable clusters and its new Storage VMotion may eliminate some of the need for storage virtualization. Taneja said storage vendors will have to improve their virtualization features to keep up.

"The whole storage industry is being turned upside down by VMware," he said. "VMware is doing things that storage used to do. The storage industry has to wake up or it will find itself subservient to server virtualization."
Dig Deeper on Virtualization Strategy
PRO+
Content
Find more PRO+ content and other member only offers, here.