Reldata gateway solves user's NAS puzzle
Managed service provider Yellow Fiber Networks finds Reldata's approach to file system performance the answer to a customer's demanding NAS requirements.
Looking for something else?
After three approaches failed, the fourth time was a charm for managed service provider Yellow Fiber Networks, which finally found the right storage architecture to support a customer with demanding NAS requirements. Yellow Fiber's problems were solved by Reldata Inc., which met performance demands at a lower price than other clustered NAS or storage virtualization systems.

Download this free guide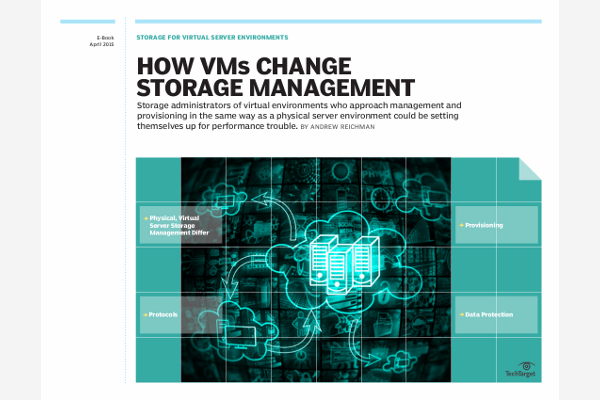 Free download: A complete guide to storage for virtual environments
Many storage admins consider virtual servers for a boost in agility – which is essential when supporting remote offices, new business applications, and unbridled data growth. But, if you're thinking of approaching your virtual environments with the same old storage strategy as your physical servers, then you're setting yourself up for a series of performance and capacity issues down the road. Download this invaluable guide, featuring expert tips and advice to help you architect the best storage management strategy for virtual environments.
By submitting your email address, you agree to receive emails regarding relevant topic offers from TechTarget and its partners. You can withdraw your consent at any time. Contact TechTarget at 275 Grove Street, Newton, MA.
You also agree that your personal information may be transferred and processed in the United States, and that you have read and agree to the Terms of Use and the Privacy Policy.

The company started its search for a new product while trying to support a customer requiring large numbers of relatively small file requests on about 8 TB of storage, to the tune of 136,704 one-sector requests, for an average of 2,136 IOPS with I/O size of 32KB .Yellow Fiber first tried an IBM DS4000 series SAN attached to a Red Hat GFS gateway. The XFS file system used in that gateway at the time "couldn't handle the number of file requests," said Zak Thompson, Yellow Fiber CEO. "We also had file-locking issues."
The company next deployed Sun's SunFire X4500 Thumper DAS system running ZFS, but ran into more performance bottlenecks. "On large sequential reads and writes both ZFS and XFS worked like a charm," Thompson said. "Our problem was large numbers of small random reads." It didn't help that the Thumper system used SATA disks instead of high-performance Fibre Channel or SAS drives, he added.
From there, the company evaluated a range of solutions, from 3PAR's virtualized high-end disk arrays to F5 Acopia's file virtualization systems. For a while, Yellow Fiber and its customer struggled with a combination of separate dedicated iSCSI and NAS systems that "became a nightmare to manage," Thompson said.
Some of the other products Yellow Fiber evaluated, such as Exanet's ExaStore clustered NAS system, impressed him, but most were way beyond the two-year-old service provider's budget. "If we were working in an environment over 20 TB in this case, I'd definitely have gone for Exanet," he said, noting that the company's global namespace and N-way clustering were appealing. But the $90,000 ballpark price tag he was quoted was far too high.
Thompson declined to say how much he paid for the Reldata 9240 gateway, but indicated it was "less expensive than a $50,000 EqualLogic system with equivalent features." He also indicated he'd been given a significant discount through one of Reldata's VARs.
Price turned out to be the determining factor, but boosting Yellow Fiber's NFS and iSCSI performance was the major qualification for consideration. Thompson said he's been pleased with Reldata's gateway. The ability to use 15,000 rpm SAS drives in whitebox SuperMicro arrays behind the gateway increased performance for the high IOPS customer, and being able to slot in any disk array behind the gateway also kept costs down.
Good approach to iSCSI, NFS protocols
Reldata's approach to the iSCSI and NFS protocols also appealed to Thompson. "They have their own [proprietary] iSCSI stack," he said. The 9240's iSCSI initiators and targets have been stripped down and integrated by Reldata to streamline performance. Similar tweaks to Reldata's flavor of NFS (Reldata officials declined to share specifics, saying it's part of their "secret sauce"), as well as custom optimization for Yellow Fiber's particular use case, have kept the file system performance at the level it needs to be for the customer.
Thompson plans to deploy more gateways running VMware's ESX server to consolidate his data center. Then he could offer customers virtualized slices of the storage served up by the 9240. That plan, he said, puts thin provisioning at the top of his wish list for Reldata. "Disk space limitations are always a problem with shared hosting, especially since by its nature it's an overselling business," he said. Along with deferring disk space purchases, thin provisioning would also provide a more realistic idea of storage requirements from day to day and, he said, "allow us to optimize performance for each virtual machine and add customers where it'll best utilize our available CPU and memory."
A Reldata spokesperson said thin provisioning is planned for its gateways later this year.
Dig Deeper on File Virtualization or NAS Virtualization
PRO+
Content
Find more PRO+ content and other member only offers, here.