3PAR shrinks virtual desktop storage
3PAR's software package allows users of its high-end disk arrays to store a single "golden image" of virtual desktops and hold that image in cache for better boot performance.
Looking for something else?
3PAR Inc. has begun offering its customers a free upgrade to its InServ Storage Server high-end disk arrays that it claims will streamline storage provisioning for VMware virtual desktops.

Download this free guide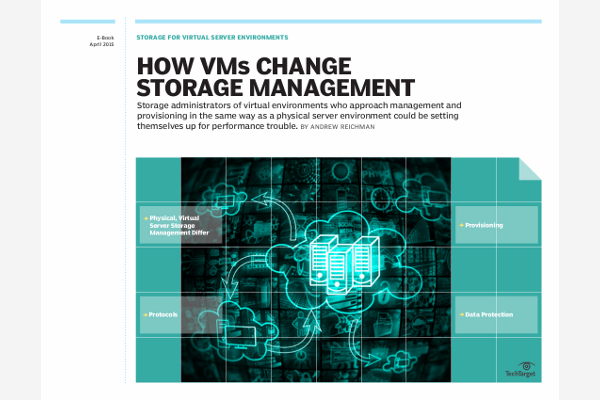 Free download: A complete guide to storage for virtual environments
Many storage admins consider virtual servers for a boost in agility – which is essential when supporting remote offices, new business applications, and unbridled data growth. But, if you're thinking of approaching your virtual environments with the same old storage strategy as your physical servers, then you're setting yourself up for a series of performance and capacity issues down the road. Download this invaluable guide, featuring expert tips and advice to help you architect the best storage management strategy for virtual environments.
By submitting your email address, you agree to receive emails regarding relevant topic offers from TechTarget and its partners. You can withdraw your consent at any time. Contact TechTarget at 275 Grove Street, Newton, MA.
You also agree that your personal information may be transferred and processed in the United States, and that you have read and agree to the Terms of Use and the Privacy Policy.

The new software, called Thin Copy Desktop for VMware Desktop Infrastructure (VDI), will also be included in InServ systems going forward. The software combines 3PAR's thin provisioning, writable snapshots and a reference script that users can employ to create automated desktop provisioning processes.
Thin Copy for VDI can also automatically create capacity-efficient snapshots from "golden desktop" images and export them to the VMware ESX hypervisor, which then creates a new virtual desktop from each snapshot, avoiding manual provisioning or host-based cloning.
3PAR also claims that booting hundreds of desktops from a single VMware ESX cluster can be faster with its software than it is for an individual desktop with a local OS, because the "golden image" is held in cache on the InServ system once the first desktop boots from the SAN. Any subsequent desktops that boot refer to the image already in cache, rather than having to go to disk for individual images.
However, the software still maintains the relationships between each virtual desktop and its underlying snapshots, so admins can still gauge the storage capacity and I/O for each virtual desktop machine. Individual virtual desktops can also be recovered using the snapshots if there's an outage.
3PAR is far from alone when it comes to designing its storage systems to work with VDI. NetApp Inc. has been touting its VDI integration since last year, and some users have found its A-SIS sub-file level dedupe even better at collapsing highly redundant desktop images to save even more on storage. DataCore Software also offers thin provisioning for virtual machines and desktops.
However, 3PAR users say maintaining performance along with better space efficiency is more important to them than squeezing every last megabyte out of VDI storage. Matthew Yotko, senior director of information technology for IAC/InterActiveCorp, a conglomerate of Web sites including Ask.com, LendingTree.com and Ticketmaster, said his company has already standardized on 3PAR storage for all its applications, including VMware, and is currently planning for virtual desktop deployment.
"Performance is almost always a critical issue for us," Yotko said. "It's the whole reason we invested in 3PAR in the first place. With any new feature they bring out, I'd expect to get the same performance benefit."
According to Taneja Group analyst and former VMware exec Jeff Byrne, NetApp's approach is best suited to small and midsize VDI deployments. In addition to the fact that sub-file dedupe today almost always carries a performance penalty, NetApp's caching doesn't work the same way as 3PAR's.
Because data can't yet be deduplicated by A-SIS across FlexVols, in order to get data deduplication, multiple virtual desktops must be stored in a single volume. "When using FlexClone plus NetApp dedupe, the caching algorithm can only be leveraged across the virtual desktops within a given volume," Byrne wrote to SearchStorage.com in an email. "The NetApp caches on the highest end FAS array (the FAS 6080) are 64GB in size and therefore paging to disk is inevitable…given a large enough VDI installation."
Meanwhile, 3PAR's "golden image" can make more efficient use of cache. 3PAR also assigns a volume to each virtual desktop image, meaning it can also quickly recover a single desktop in the event of a failure, as well as providing visibility into the I/O for each virtual desktop image, Byrne added.
Dig Deeper on Virtualization Strategy
PRO+
Content
Find more PRO+ content and other member only offers, here.