Attune file virtualization software reports on Windows NAS performance
Attune releases out a capacity utilization and performance monitoring tool in hopes of jumpstarting a lackluster file virtualization market in tight economic times.
Looking for something else?
Attune Systems Inc. is expanding the reporting features in its Maestro File Manager file virtualization software. Version 3.0 of Maestro File Manager, launched today, shows customers the throughput, performance and capacity utilization of their NAS hardware.

Download this free guide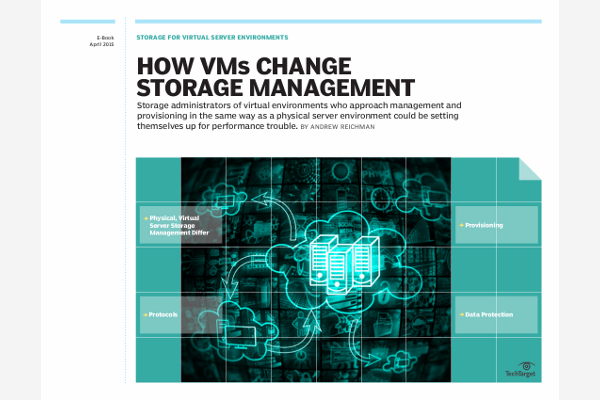 Free download: A complete guide to storage for virtual environments
Many storage admins consider virtual servers for a boost in agility – which is essential when supporting remote offices, new business applications, and unbridled data growth. But, if you're thinking of approaching your virtual environments with the same old storage strategy as your physical servers, then you're setting yourself up for a series of performance and capacity issues down the road. Download this invaluable guide, featuring expert tips and advice to help you architect the best storage management strategy for virtual environments.
By submitting your email address, you agree to receive emails regarding relevant topic offers from TechTarget and its partners. You can withdraw your consent at any time. Contact TechTarget at 275 Grove Street, Newton, MA.
You also agree that your personal information may be transferred and processed in the United States, and that you have read and agree to the Terms of Use and the Privacy Policy.

Maestro File Manager supports Windows file systems only. The file virtualization product integrates with NetApp filers through an API and can support any Windows-based NAS head or gateway, according to Attune president and CEO Alan Kessler.
Previous versions of Maestro File Manager reported on file system information, such as file creation dates, access times, size and location, features similar to those included by Attune competitor F5 Networks in its ARX file virtualization product, which it updated this month. The new version adds the ability to monitor CPU utilization, throughput utilization, memory utilization, and capacity utilization and distribution according to volume.
John Greiner, network supervisor for the Temple, Texas School district, runs Maestro to pool 30 Windows servers with direct-attached storage (DAS). He also uses Maestro to migrate infrequently accessed files to the older, slower hardware in the pool. "I'm looking forward to more detailed reporting," he said. "If we can use the reporting data to create more archiving jobs, we can clean up our storage even more."
The new features will become a part of the Maestro Symphony Reporting module within Maestro File Manager. It will be a free upgrade to current customers under maintenance and will be included in the file virtualization management software going forward.
So far, while the "underlying infrastructure is there," according to Kessler, the reporting doesn't translate into automated action by Maestro. Customers must create jobs to mitigate performance bottlenecks or capacity overflows separately. "To a large degree we recognize that customers are extremely conservative and cautious, and aren't necessarily interested in [saying] 'Hey, let's try this,'" he said.
But Greiner said there's room in his shop for a little more integration and automation with the Attune product, like the ability to enforce quotas. Windows has this type of feature natively, but it's the Attune virtualization layer that has control over the file system rather than the Windows server. "I'm pursuing looking into a way to control the amount of storage each user can have," he said. "It would be nice if the Maestro system could monitor the utilization and apply a rule to stop the user from writing if they're over their quota."
Need for storage efficiency tools
"There's a real need out there for this kind of thing, and it's really timely," said Forrester Research analyst Andrew Reichman. "As the economy's tight, people are going to pay a lot of attention to utilization and getting more out of what they already own."
This is Attune's bet as the economy worsens. "Everyone's looking to be more efficient, but they lack the information, or they're focused on file-level deduplication and archiving," Kessler said. "Another way is to use NAS volumes more efficiently."
Attune also finds itself in a market segment that has languished lately despite good reviews from customers who have adopted products. "My concern is, are people willing to buy a NAS system plus Attune? This type of feature really should be a part of the file storage offering," Reichman said.
The down economy makes some predictions impossible at the moment, Reichman added, such as "whether more people will want this type of tool because they want to get their house in order or if it will be [fewer] people because they see it as a luxury item."
Dig Deeper on File Virtualization or NAS Virtualization
PRO+
Content
Find more PRO+ content and other member only offers, here.