Gadzoox debuts networked storage pools
Looking for something else?
Gadzoox Networks Inc., a provider of SAN products based in San Jose, Calif., introduced Axxess, a new family of products for networked storage pools. The release is a product of Gadzoox' six-week old partnership with DataCore Software Corp., Fort Lauderdale, Fla.

Download this free guide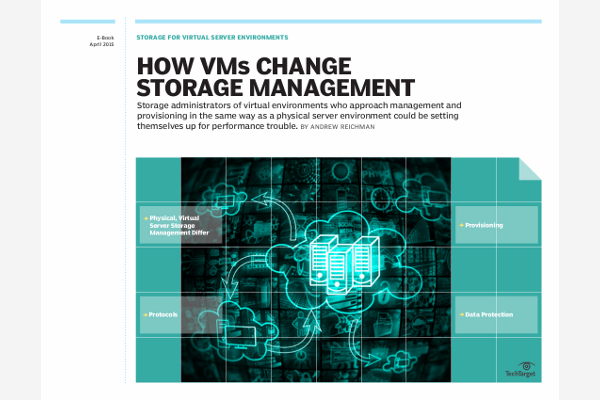 Free download: A complete guide to storage for virtual environments
Many storage admins consider virtual servers for a boost in agility – which is essential when supporting remote offices, new business applications, and unbridled data growth. But, if you're thinking of approaching your virtual environments with the same old storage strategy as your physical servers, then you're setting yourself up for a series of performance and capacity issues down the road. Download this invaluable guide, featuring expert tips and advice to help you architect the best storage management strategy for virtual environments.
By submitting your email address, you agree to receive emails regarding relevant topic offers from TechTarget and its partners. You can withdraw your consent at any time. Contact TechTarget at 275 Grove Street, Newton, MA.
You also agree that your personal information may be transferred and processed in the United States, and that you have read and agree to the Terms of Use and the Privacy Policy.

The development partnership was formed to deliver what the two companies call the industry's first open systems networked storage pool solution, bringing different vendor's storage systems together in a single scalable, cost-effective storage resource. Axxess can combine different vendor's storage devices into one Networked Storage Pool (NSP). Gadzoox says DataCore Software's SANsymphony storage pooling software, released last month, is an integral part of their Axxess product line.
Networked storage pools combine DataCore's drag-and-drop storage domain server with the Capellix SAN switch from Gadzoox. Networked storage pools allow different types of storage to be aggregated into a single logical storage resource from which virtual volumes can be served up to different types of application servers. Both companies believe that the networked storage pool represents the next logical step in the evolution of SANs.
"This partnership addresses a pent-up demand for interoperable SAN solutions that move the users closer to the promise of connecting any storage to any server in a storage network," said Robert Gray, director storage subsystems at International Data Corp., a Framingham, Mass.-based research group. "The power of this partnership lies in the fact that it combines the resources of market leaders."
Axxess allows the connection of any server to any storage system, according to Michael Parides, Gadzoox Networks vice president of advanced solutions. Networked storage pooling virtualizes storage into logical volumes that are allocated to servers with no need for physical reconfiguration or downtime. Thus, different vendors and operating systems can be consolidated into a single, logical view.
The Axxess solution applies the high data transfer speeds afforded by the fibre channel SAN along with cache built into the storage pool to provide rapid access and high performance. Gadzoox claims backup is simpler and more efficient due to Fibre Channel's 100M bit per second speeds, and because each environment in the pool of storage is backed up, rather than separately, at the device level.
Axxess consists of three key elements: the modular, high-performance Capellix SAN Fibre Channel switch; an Axxess Engine, the enterprise hardware base with high-performance cache with DataCore's storage pooling software; and a connection kit, which includes the fibre channel interface cards and connection software.
The Gadzoox NSP platform comes in two versions. The Axxess 200 includes Gadzoox' popular Capellix 2000 switch and the Axxess Engine with 528 M bytes of cache and a high performance Pentium III platform, along with Windows NT 4 software, Storage Pooling software, and an event manager. Pricing starts at $50,000. The Axxess 400 provides the basic Axxess 200 package plus an upgrade of the switch to Gadzoox' Capellix 3000 switch, the Axxess Engine is upgraded to 2G bytes of cache, and other hardware for additional performance. The software base is also enhanced with additional functions such as snapshot and the ability to failover between nodes. Prices start at $125,000.
Dig Deeper on File Virtualization or NAS Virtualization
PRO+
Content
Find more PRO+ content and other member only offers, here.