F5 looks to bring ARX NAS virtualization, file migration to smaller organizations
F5 adds midrange and entry-level ARX devices as it attempts to bring NAS virtualization and file migration to organizations besides large enterprises.
Looking for something else?
F5 Networks Inc. is rolling out two new members of its ARX platform today in an attempt to drive the NAS virtualization and file migration appliances into SMBs and smaller enterprises.

Download this free guide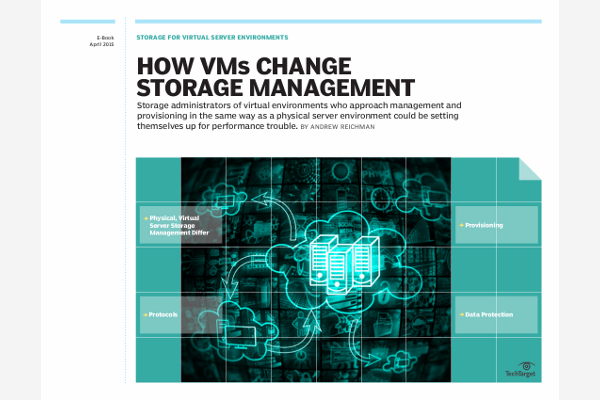 Free download: A complete guide to storage for virtual environments
Many storage admins consider virtual servers for a boost in agility – which is essential when supporting remote offices, new business applications, and unbridled data growth. But, if you're thinking of approaching your virtual environments with the same old storage strategy as your physical servers, then you're setting yourself up for a series of performance and capacity issues down the road. Download this invaluable guide, featuring expert tips and advice to help you architect the best storage management strategy for virtual environments.
By submitting your email address, you agree to receive emails regarding relevant topic offers from TechTarget and its partners. You can withdraw your consent at any time. Contact TechTarget at 275 Grove Street, Newton, MA.
You also agree that your personal information may be transferred and processed in the United States, and that you have read and agree to the Terms of Use and the Privacy Policy.

The new midrange ARX2500 and entry-level ARX1500 models are 1U appliances with higher performance and scalability than the ARX2000 and entry-level ARX500, which will be replaced by the ARX1500, F5 Product Marketing Manager Renny Shen said. The ARX2500 offers four Gigabit Ethernet (GbE) and two 10 Gigabit Ethernet ports and 8 Gbps throughput for data processing. That compares with 12 GbE ports and 4 Gbps throughput for the ARX2000.
The ARX2500 is designed to handle as many as 6,000 users and 1.5 billion files, and is F5's first midrange file virtualization device to support 10 GbE. The enterprise ARX4000 is F5's other 10 GbE product.
The ARX1500 has eight GbE ports and 3.2 Gbps throughput compared with the ARX500's two GbE ports and 800 Mbps throughput. The ARX1500 has a dual-licensing model. The basic license handles 1,500 users and 384 million files, and customers can upgrade to an enterprise software license for as many as 3,000 users and 768 million files.
The ARX2500 is priced at about $100,000, and the ARX1500 is priced between $30,000 and $40,000, depending on the license.
Until now, ARX devices have been used mostly by larger enterprises. F5 is counting on improvements to the ARX2500 and ARX1500 to push adoption downward.
"F5 now is recognizing that these problems exist in small businesses, and small businesses are recognizing they have the same problems as large businesses," said Rick Villars, IDC's vice president of storage systems. "You can't keep throwing individual file systems at the problem. Users can take pre-existing file systems and put an ARX in front and layer the GNS [global namespace] over independent namespaces."
The new ARX devices provide the same NAS virtualization and file migration functionality as the larger products, but performance and scale vary. The high-end ARX 4000, for instance, is designed for 12,000 users and 2 billion files.
"For performance, we are offering better price points so small companies can take advantage of ARX," Shen said. "Your individual scale and performance requirements dictate which ARX you go with."
Shen said the ARX 1500 is priced about the same as the ARX 500, which will be taken off the market Oct. 1.
"The 500 is a fairly old platform," Shen said. "It's been around a long time. It's been underpowered, so we created a new device at basically the same price point."
The ARX platform uses a GNS to eliminate the requirement for a NAS system to know exactly where files are stored. F5 layers GNS over the independent namespaces located in disparate NAS and file servers.
The ARX platform also offers automated data management capabilities such as migration, storage tiering and capacity balancing. A policy can be set so that ARX automatically distributes files across all the storage devices to balance out utilization, said Shen. IT managers can move files behind the ARX from one file server to another or from one NAS system to another to rebalance capacity or for file migration without having to notify end users of the changes.
Dig Deeper on File Virtualization or NAS Virtualization
PRO+
Content
Find more PRO+ content and other member only offers, here.