Tintri upgrades VM storage appliance, features
Startup Tintri adds dual-controller, larger-capacity versions of its virtual machine storage appliance with a VM auto-alignment feature.
Looking for something else?
TECHNOLOGIES

PRODUCTS
Tintri, the startup that came out of stealth with a virtual machine (VM) storage appliance for VMware environments in April, today rolled out a larger-capacity, dual-controller system that includes VM auto-alignment and a reporting tool that identifies latency from the guest operating system through the storage.

Download this free guide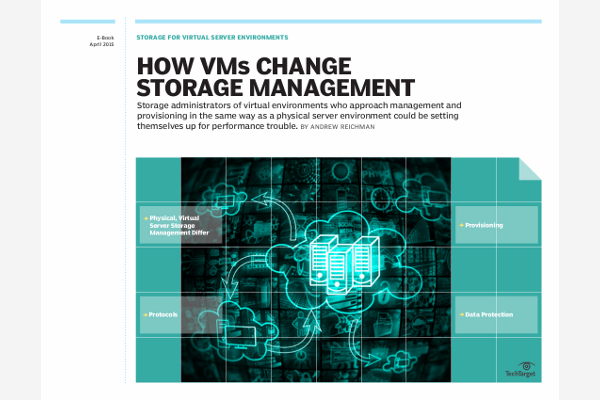 Free download: A complete guide to storage for virtual environments
Many storage admins consider virtual servers for a boost in agility – which is essential when supporting remote offices, new business applications, and unbridled data growth. But, if you're thinking of approaching your virtual environments with the same old storage strategy as your physical servers, then you're setting yourself up for a series of performance and capacity issues down the road. Download this invaluable guide, featuring expert tips and advice to help you architect the best storage management strategy for virtual environments.
By submitting your email address, you agree to receive emails regarding relevant topic offers from TechTarget and its partners. You can withdraw your consent at any time. Contact TechTarget at 275 Grove Street, Newton, MA.
You also agree that your personal information may be transferred and processed in the United States, and that you have read and agree to the Terms of Use and the Privacy Policy.

The Tintri VM storage appliances only support storage with VMware, although Tintri executives say they expect to add support for other hypervisors. The appliances do not support physical servers.
The Tintri VMstore T540 uses a mix of solid-state drives (SSDs) and SATA disk, the same as the VMstore T445, which began shipping in April. The T540 is a 3U dual-controller box with 13.5 TB of usable disk capacity (26.5 TB total ) and 2.4 TB of multi-level cell (MLC) flash. Each box can handle more than 200 virtual machines, said Chris Bennett, Tintri's vice president of marketing.
Tintri's original T445 system is a 4U single-controller system with 8.5 TB of usable storage and 1.44 TB of flash. Bennett said the startup will continue to sell the T445 as an entry-level system. The VM storage appliances are NFS-attached today, but Bennett said an iSCSI version may follow. Tintri is also planning more mature storage management features such as replication on a VM basis for future releases.
VMstore nodes can be clustered as NFS shares through 10 Gigabit Ethernet (GbE).
Bennett said VMstore is designed to generate 99% of its I/O from flash. Tintri claims the system also uses inline deduplication for submillisecond latency.
What makes Tintri different from other SSD systems is its integration with VMware. VMstore communicates with the VMware vCenter Server API to determine which VMs are active on the array. Instead of using volumes, LUNs and RAID groups, VMstores map I/O requests directly to the virtual disk on which they occur. The tight VM integration lets VMstore monitor and control I/O performance for each virtual disk.
Tintri claims its system automatically aligns the storage layer to the guest file system, so administrators don't have to manually realign them to avoid performance degradation over time. The VMstore management dashboard also identifies latency for each VM and virtual disk to help troubleshoot performance problems.
Pricing for the T540 starts at $90,000, including four 10 GbE ports. The T445 costs $64,000.
Ed Lee, Tintri's architect, said most of the vendor's early customers use VMstore for specific applications, such as performance-hungry databases.
"Maybe there's an application they tried to virtualize and failed, so they try running those applications on us, and then they may migrate other apps," he said.
Tintri's challenge will be keeping any edge it has managing VMs as the large storage vendors work more closely with VMware Inc. to take advantage of VMware vStorage APIs for Array Integration (VAAI). At VMworld in August, VMware previewed next-generation VAAIs that enable administrators to provision storage without using LUNs, RAID groups and NAS mount points. EMC Corp., NetApp Inc., Dell Inc., IBM, Hewlett-Packard Co. and Hitachi Data Systems Corp. are working with VMware on these features. But no storage vendors have said they were working on features such as auto-alignment or I/O visibility from VM to storage.
Ray Lucchesi, Silverton Consulting president, said he hasn't seen other vendors as tightly integrated with VMware as Tintri.
"Tintri is laser-focused on VMware, and tightly coupled to VMware APIs," Lucchesi said. "I haven't seen other vendors drill down to the virtual machine and produce the same statistics from the I/O level. I don't know if other storage vendors are working on that level of integration with VMware. If they are, they're not showing it yet."
Dig Deeper on Data Storage Solutions for a Virtual Environment
PRO+
Content
Find more PRO+ content and other member only offers, here.