Virsto software adds support for XenDesktop VDI environments
Seeing its technology as a good fit for solving VDI storage woes, Virsto Software extends its support to Citrix Systems' XenDesktop VDI environments.
Looking for something else?
Virsto Software Corp. has identified improving virtual desktop storage performance as a major area where its software aimed at improving virtual machine (VM) I/O can help. This week it released a beta version of Virsto for Citrix Systems Inc.'s XenDesktop 5.5 virtual desktop infrastructure (VDI) platform on VMware vSphere.

Download this free guide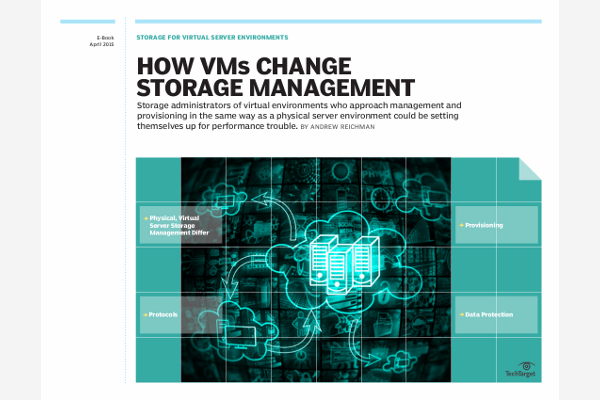 Free download: A complete guide to storage for virtual environments
Many storage admins consider virtual servers for a boost in agility – which is essential when supporting remote offices, new business applications, and unbridled data growth. But, if you're thinking of approaching your virtual environments with the same old storage strategy as your physical servers, then you're setting yourself up for a series of performance and capacity issues down the road. Download this invaluable guide, featuring expert tips and advice to help you architect the best storage management strategy for virtual environments.
By submitting your email address, you agree to receive emails regarding relevant topic offers from TechTarget and its partners. You can withdraw your consent at any time. Contact TechTarget at 275 Grove Street, Newton, MA.
You also agree that your personal information may be transferred and processed in the United States, and that you have read and agree to the Terms of Use and the Privacy Policy.

Virsto for XenDesktop follows the company's vSphere support release in January and its initial product launch for Microsoft Hyper-V in February 2010.
"VDI happens to be one [use case] where we continue to get drawn in because of the value proposition and what we solve in virtualized environments," said Gregg Holzrichter, Virsto's vice president of marketing. "It is especially well suited for the extremely random I/O, write-intensive workloads of VDI, and the challenge of very high cost of storage in VDI environments."
Administrators load Virsto's storage hypervisor as a virtual storage appliance (VSA) on each physical host and select the Virsto option when provisioning storage for VMs. A VM then presents I/O to a Virsto vDisk storage mount point, which aggregates the I/O at the VM level.
The I/O is then offloaded sequentially to a Virsto-created log within shared storage. The log immediately commits the storage write back to the VM. The Virsto software separates the write commit from the actual placing of blocks into shared storage for increased performance.
Storage performance is often the major stumbling block for organizations planning large VDI implementations.
"Storage performance is the primary problem in the VDI world," said Howard Marks, DeepStorage.net chief scientist. "If you take a user who typically generates 20 I/O operations per second against his local hard drive, which can do 100 I/O operations per second, and you put 100 of them on a server, you need to deliver a lot of storage performance to get the same kind of experience.
"Virsto has a log-based file structure that turns a lot of the I/O that would be random back into sequential, and that can have a serious impact on improving that storage problem," said Marks. "They also do snapshots really well. So what they've done in this latest announcement is take their snapshot technology and tie it in to XenDesktop."
Holzrichter claims the Virsto architecture is also more space-efficient than traditional storage in virtualized environments, because its differentiated block map allows it to use thin provisioning with the underlying shared storage. "We're able to present this [supposedly fixed] virtual disk to the VMs but only write through the blocks that are being committed," he said.
Holzrichter said Virsto software also handles common data surges associated with virtual desktops. "The log architecture is a great way to handle the write-intensive storms that are associated with things like logins or booting up applications," he said.
Dig Deeper on Data Storage Solutions for a Virtual Environment
PRO+
Content
Find more PRO+ content and other member only offers, here.