NextIO shares I/O resources via PCIe virtualization approach
NextIO is one of the few remaining vendors in the I/O virtualization space. Its V-series products achieve PCIe virtualization to consolidate and share I/O resources at the top of the server rack.
Looking for something else?
Within the shrinking I/O virtualization market, NextIO Inc., of Austin, Texas, has staked its claim on PCIe virtualization. The company's V-series product line uses high-speed PCI Express technology instead of InfiniBand to consolidate and share I/O resources at the top of the rack.

Download this free guide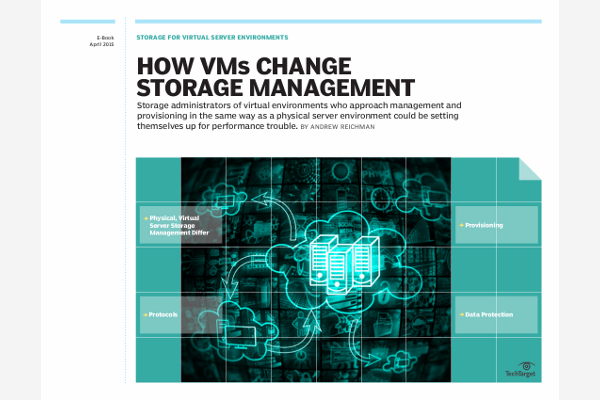 Free download: A complete guide to storage for virtual environments
Many storage admins consider virtual servers for a boost in agility – which is essential when supporting remote offices, new business applications, and unbridled data growth. But, if you're thinking of approaching your virtual environments with the same old storage strategy as your physical servers, then you're setting yourself up for a series of performance and capacity issues down the road. Download this invaluable guide, featuring expert tips and advice to help you architect the best storage management strategy for virtual environments.
By submitting your email address, you agree to receive emails regarding relevant topic offers from TechTarget and its partners. You can withdraw your consent at any time. Contact TechTarget at 275 Grove Street, Newton, MA.
You also agree that your personal information may be transferred and processed in the United States, and that you have read and agree to the Terms of Use and the Privacy Policy.

"PCIe is going to be in every chip set and therefore in every server on the planet," NextIO CEO K.C. Murphy said. "PCIe is supported by every operating system, every hypervisor and every driver out there."
NextIO's vNet, vCore and vStor I/O appliances virtualize industry-standard cards for I/O, hybrid computing and solid-state drive (SSD) resource sharing within server racks.
Traditional server I/O cards are replaced with PCIe pass-through cards and connected to the NextIO appliance at 40 Gbps. The NextIO appliance is populated with the same industry-standard I/O cards, such as 10 Gigabit Ethernet or 8 Gbps Fibre Channel (FC). The appliance can also use Nvidia Corp. GPU cards for hybrid computing or Fusion-io Inc. SSD cards for increased IOPS within the rack.
More on I/O virtualization
The NextIO appliance virtualizes the cards so they can be used by as many as 30 servers. "We can take those I/O resources and dynamically assign them, re-assign them, support failover -- all as a pool of I/O resources," Murphy said.
Memory-based cards, such as SSDs and GPUs, cannot be shared but can be reassigned to provide multiple workflow options, such as online transaction processing (OLTP) support during the day using assigned servers and batch processing using different servers at night.
The NextIO vNet product is the basic I/O resource virtualization box. It holds as many as 28 cards and can support up to 30 server connections. The vCore appliance supports the larger GPU and SSD cards that require more power and cooling. The vCore Express supports up to four cards for I/O virtualization at a lower cost, and the vCore Extreme appliance supports up to 16 cards for higher computing density. The vStor product is for organizations that need SSD cards for extreme IOPS and solid-state capacity of up to 19 TB.
NextIO's out-of-band management application controls how the I/O resources are allocated and can do quality of service (QoS) evaluations, bandwidth throttling and failover management. The company's next steps are to increase the number of servers each box can support from 30 connections to 64 servers and then 80, as well as to introduce a shared RAID technology that will allow SAN capabilities within a rack at direct-attached storage (DAS) prices. Both technologies are expected to be in limited released in 2013.
Dig Deeper on Storage Network Virtualization
PRO+
Content
Find more PRO+ content and other member only offers, here.