Essential Guide
VDI issues: How to use SSD to improve performance
A comprehensive collection of articles, videos and more, hand-picked by our editors
Tegile hybrid SAN SSD solves contractor's VDI performance issues
Tegile Systems hybrid SAN's SSDs and data reduction technologies solved Egan Company's virtual desktop infrastructure (VDI) performance issues.
FROM THE ESSENTIAL GUIDE:
Despite his initial skepticism that a change in storage systems would make a difference, Egan Company CIO Jim Nonn said a Tegile Systems Zebi hybrid SAN array significantly improved his sluggish 220-seat virtual desktop infrastructure setup.

Download this free guide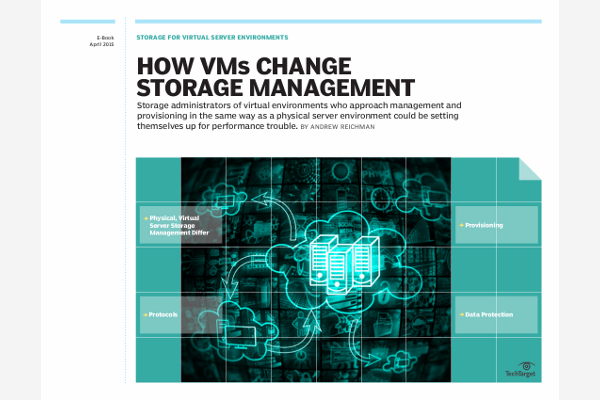 Free download: A complete guide to storage for virtual environments
Many storage admins consider virtual servers for a boost in agility – which is essential when supporting remote offices, new business applications, and unbridled data growth. But, if you're thinking of approaching your virtual environments with the same old storage strategy as your physical servers, then you're setting yourself up for a series of performance and capacity issues down the road. Download this invaluable guide, featuring expert tips and advice to help you architect the best storage management strategy for virtual environments.
By submitting your email address, you agree to receive emails regarding relevant topic offers from TechTarget and its partners. You can withdraw your consent at any time. Contact TechTarget at 275 Grove Street, Newton, MA.
You also agree that your personal information may be transferred and processed in the United States, and that you have read and agree to the Terms of Use and the Privacy Policy.

Nonn said the switch to the combination solid-state and hard drive system reduced response times and capacity requirements for the Brooklyn Park, Mich.-based construction contractor.
Egan has about 20 computer-aided design (CAD) workers and 200 general knowledge workers using VMware Inc. View 5.1 virtual desktop infrastructure (VDI) software. Nonn said his legacy 50 TB Dell Inc. Compellent storage array wasn't providing the performance his VDI environment required. VMware View Client boot times were taking more than five minutes, and performance was sluggish.
"[The Compellent SAN] is a good [product], but the performance just wasn't there for the View environment," Nonn said.
He was also having problems with image recomposes, which attach the linked-clone desktops to a new base image. Doing recomposes often caused View to fail.
Nonn's VMware representative told him the issue was latency within his disk array. The reseller that sold Egan the Compellent SAN recommended a Nimble Storage Inc. CS-series hybrid SAN. Nonn also researched Tegile's products because they offered primary storage deduplication.
Nonn said he wasn't convinced a new array would improve the VDI performance issues, but he tested the Nimble and Tegile Systems hybrid arrays. He said the Tegile Zebi array outperformed the Nimble system, and erased his doubts. After two more months of fully testing the system, Egan put it into production in October.
"I was just blown away by the performance of the Tegile SAN," Nonn said. "We now have all 220 [virtual desktop] users over on the Tegile SAN. Our boot times, even on Monday mornings when everything is crazy, [are] less than a minute. It's radically different than the SAN before it."
Nonn purchased a dual-controller Zebi hybrid SAN array with six 200 GB solid-state drives (SSDs) and 10 2 TB hard-disk drives (HDDs). He also has two hard-drive expansion shelves with 13 2 TB drives apiece.
Nonn said he sees between 3,000 and 5,000 IOPS during a normal day in his VDI environment. During nightly maintenance and image recomposes, it can spike to over 10,000 IOPS.
"We've actually seen [the Zebi] SAN do 36,000 IOPS, which is just phenomenally crazy," Nonn said. "I didn't have any idea that it was going to have such a major impact on the day-to-day usage of the VDI environment."
The performance requirements for CAD 3D business information modeling (BIM) for construction planning are immense. The drawings show every component of building construction, including every pipe, piece of wire, and piece of duct work.
"That's how we build things these days," Nonn said. "And building that way takes a very powerful machine."
His peers who do computer-aided design (CAD) modeling usually buy $6,000 to $10,000 desktop systems to get the required performance. Nonn supplies a dummy terminal and a View client to his users. CAD drawings that used to take 10 minutes or more to open now take a couple minutes, he said.
"I wouldn't necessarily recommend that to everyone because there are a lot of steps you have to go through to get there," Nonn said. "But that's the impressive performance that we've seen."
Tegile's primary deduplication and compression technologies have also reduced Egan's VDI storage footprint from 7 TB to less than 1 TB.
Egan still uses the Tegile system only for VDI, but Nonn said he plans to move the rest of his application and user data to the Zebi array over the next few months.
PRO+
Content
Find more PRO+ content and other member only offers, here.