Startup CloudFounders builds open storage for VMs
CloudFounders promises an open storage version of software-defined storage that supports OpenStack, Amazon S3 and VMware.
Looking for something else?
Belgium-based newcomer CloudFounders is jumping on the software-defined storage bandwagon with an open storage platform that supports OpenStack, VMware and Amazon S3.

Download this free guide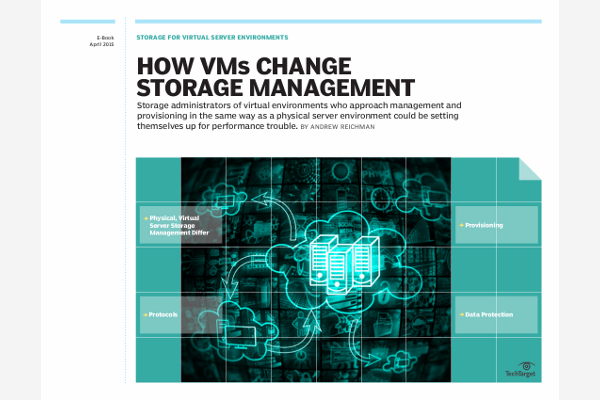 Free download: A complete guide to storage for virtual environments
Many storage admins consider virtual servers for a boost in agility – which is essential when supporting remote offices, new business applications, and unbridled data growth. But, if you're thinking of approaching your virtual environments with the same old storage strategy as your physical servers, then you're setting yourself up for a series of performance and capacity issues down the road. Download this invaluable guide, featuring expert tips and advice to help you architect the best storage management strategy for virtual environments.
By submitting your email address, you agree to receive emails regarding relevant topic offers from TechTarget and its partners. You can withdraw your consent at any time. Contact TechTarget at 275 Grove Street, Newton, MA.
You also agree that your personal information may be transferred and processed in the United States, and that you have read and agree to the Terms of Use and the Privacy Policy.

The CloudFounders Open vStorage platform offloads storage features, such as data deduplication, thin provisioning, thin cloning, replication and snapshots, onto virtual machines (VMs) while allowing data to be distributed on object-based storage, SANs or converged storage on the back end. "We have built a software-defined storage solution that tackles scalability and helps leverage different storage systems on the back end," said CloudFounders Chief Technology Officer Kurt Glazemakers. "All the storage operations are happening at the virtual machine-centric level."
The CloudFounders Open vStorage platform provides each VM with its own virtual disk (vDisk). The architecture uses what the company calls a Cloud Storage Router, or CSR, that sits on each hypervisor and leverages solid-state drives (SSDs) or flash. It also includes vStorage Accelerator, vStorage Initiator, vStorage Protector and vStorage Distributor modules.
The vStorage Accelerator is a VM-centric module that uses SSDs or flash cache to read or write data on vDisks and deliver high IOPS to applications. The vStorage Initiator does unlimited snapshots, thin cloning and VM replication. It transfers data to the vStorage Distributor, which then stores it on disk or SSDs. The Accelerator and Initiator manage the data, while the Distributor stores all the changes.
The Accelerator keeps the latest versions of the data in flash. The Distributor does compression, encryption and erasure coding so data can be distributed across different appliances.
"The vStorage Accelerator uses flash or SSDs for caching to vDisks to deliver high I/O to applications," Glazemakers said. "Then the Initiator stores the data on secondary media and transfers the data to the Distributor. We adapt block size on the Initiator for very slow or fast storage on the back end. For instance, Amazon S3 is slow, while SAN and [network-attached storage] NAS are fast. [The vStorage Initiator] translates random I/O into sequential I/O before the data is moved to the distributor."
Glazemakers said Open vStorage is designed to boost the performance of virtualized environments that support VMware, Microsoft Hyper-V and open source KVM hypervisors. The architecture uses flash or SSDs in each server node to act as local cache to deliver performance of 100,000 IOPS. "You can move one VM to another hypervisor because all the cache can talk to each other," he said.
Glazemakers said the open storage platform does deduplication for what it calls "location-based" versioning, meaning that if data is written on a vDisk, the file goes to the Accelerator to write it to flash or SSD. When the file is recalled, the latest version is delivered because the system is getting the data via the address of the file system. "We can take 50 copies and we only use one megabyte of flash," he said. "That one megabyte is overwritten with the latest version of data."
A time-based versioning capability keeps track of all the changes so data can be recalled from any point in time because all the changes are stored. Glazemakers said it operates like a backup system, keeping all the data on SATA drives.
CloudFounders Open vStorage is scheduled for release in the third quarter of 2013. It can be installed on x86 hardware or as a virtual storage appliance. Modules connect via 10 Gigabit Ethernet.
Storage vendors are embracing the software-defined storage label, which some consider to be another term for storage virtualization. EMC Corp. last week launched its ViPR platform, which combines storage virtualization and cloud management, and allows customers to see storage across heterogeneous storage arrays as one pool.
Dig Deeper on Data Storage Solutions for a Virtual Environment
PRO+
Content
Find more PRO+ content and other member only offers, here.