SimpliVity OmniCube relieves Wisconsin manufacturer of complexity
An upgrade to SimpliVity's hyper-converged OmniCube helped Wausau Coated Products simplify the firm's infrastructure and its management.
Looking for something else?
TECHNOLOGIES
For Wausau Coated Products Inc., based in Wausau, Wis., creating custom packaging materials for food, health and beauty products requires a manufacturing facility that operates 24/7. And with two data centers, storage that is simple and guarantees uptime is essential to getting products shipped to customers on time.

Download this free guide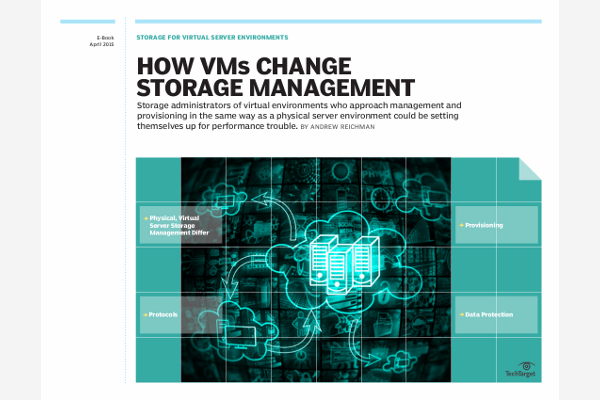 Free download: A complete guide to storage for virtual environments
Many storage admins consider virtual servers for a boost in agility – which is essential when supporting remote offices, new business applications, and unbridled data growth. But, if you're thinking of approaching your virtual environments with the same old storage strategy as your physical servers, then you're setting yourself up for a series of performance and capacity issues down the road. Download this invaluable guide, featuring expert tips and advice to help you architect the best storage management strategy for virtual environments.
By submitting your email address, you agree to receive emails regarding relevant topic offers from TechTarget and its partners. You can withdraw your consent at any time. Contact TechTarget at 275 Grove Street, Newton, MA.
You also agree that your personal information may be transferred and processed in the United States, and that you have read and agree to the Terms of Use and the Privacy Policy.

The label and packaging material manufacturer purchased four hyper-converged SimpliVity Corp. OmniCubes -- two for each of its data centers -- in April 2013 to replace a more complex storage setup consisting of three servers and two distinct SANs.
SimpliVity refers to OmniCube as a "data center in a box." A SimpliVity OmniCube is sold as a 2U appliance that comes complete with compute, networking, storage and VMware hypervisors.
Wausau, which employs approximately 200 people, relies heavily on a file server, Microsoft Exchange for email and a custom enterprise resource planning program that was developed in-house. "Stability and uptime for us are very critical," said Chad Lemmer, Wausau's IT manager. "Our manufacturing facility runs 24/7, so I don't have these windows of opportunity to take things down and maintain them."
The company stores 5 TB of data in a near-100% virtualized environment between an on-site data center and a backup site at a manufacturing facility a mile away. Earlier this year, when the support contracts for its existing storage were coming to an end and the capacity in its complicated infrastructure was continuing to grow, Lemmer began the search for a new storage system.
"We primarily started to look because we were getting to the end of our support contract with our existing equipment -- the servers and storage," Lemmer said. "We were also starting to get low on space on the SAN. We had already added some additional disk space, but we knew for a period of time we would need something bigger and a little more robust."
Before implementing SimpliVity OmniCube in April, Wausau Coated Products had two Dell PowerEdge servers and an EMC SAN at its main data center, and a Dell PowerEdge server with a FalconStor SAN at the disaster recovery site. The storage was connected with Cisco switches.
"The infrastructure was getting a little complex [with] a lot of moving parts and integration between them," Lemmer said. "So when we started looking at different options, the whole converged model really seemed to make a lot of sense."
Lemmer said he considered several different storage options, including another traditional EMC SAN and the hyper-converged HC3 cluster from Scale Computing. However, a new SAN wouldn't relieve any of the complexity, and the HC3 was based on the KVM hypervisor while Wausau Coated Products uses VMware. That made SimpliVity a better fit.
"We literally took a half a rack of equipment of servers and storage and reduced it to two two-unit OmniCubes," he said. "All our data is housed in the OmniCube federation right now."
According to Lemmer, SimpliVity's use of a VMware vSphere plug-in simplified management. "With the previous solution, we had servers from Dell, a SAN from EMC, backup solutions from Veeam [and] multiple switches in between, so you have all of these different management portals that have to be maintained and integrated," he said. "The management portal of a SimpliVity OmniCube is so clean and simple I literally had my department trained in less than an hour on how to use it."
Even with a growing environment, Lemmer believes SimpliVity OmniCube will last the company at least another five years; if they do need more storage, they can add another OmniCube to the federation. "The ability to future-proof yourself with the SimpliVity model is very important," he added.
Dig Deeper on Data Storage Solutions for a Virtual Environment
PRO+
Content
Find more PRO+ content and other member only offers, here.