Dedupe added to Nutanix storage performance tiers
Nutanix adds dedupe to its hyper-converged storage platform, beginning with flash and memory performance tiers; hard drive dedupe to follow.
Looking for something else?
Startup Nutanix Inc. today upgraded the software for its hyper-converged storage systems, adding deduplication for data stored on flash and memory tiers and beta support for Microsoft Hyper-V.

Download this free guide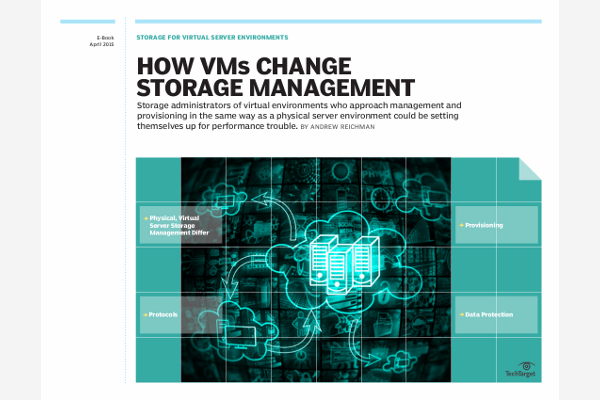 Free download: A complete guide to storage for virtual environments
Many storage admins consider virtual servers for a boost in agility – which is essential when supporting remote offices, new business applications, and unbridled data growth. But, if you're thinking of approaching your virtual environments with the same old storage strategy as your physical servers, then you're setting yourself up for a series of performance and capacity issues down the road. Download this invaluable guide, featuring expert tips and advice to help you architect the best storage management strategy for virtual environments.
By submitting your email address, you agree to receive emails regarding relevant topic offers from TechTarget and its partners. You can withdraw your consent at any time. Contact TechTarget at 275 Grove Street, Newton, MA.
You also agree that your personal information may be transferred and processed in the United States, and that you have read and agree to the Terms of Use and the Privacy Policy.

Nutanix Virtual Computing Platform NX-1000, NX-2000, NX-3000 and NX-6000 systems include storage nodes, servers, networking and hypervisors built into one box. All the systems use the Nutanix Operating System (NOS).
NOS 3.5 includes the Nutanix Elastic Deduplication Engine, software-based dedupe that will eventually reduce data across all tiers inside the Virtual Computing Platform systems. The first version will dedupe data stored on solid-state drives and RAM performance tiers. Greg Smith, Nutanix's senior director of product and technical marketing, said the vendor will also dedupe data on hard drives in a follow-on release later this year.
Nutanix claims its dedupe can hold up to 10 times as much working set data in flash and memory for applications with large working sets, such as virtual desktop infrastructure deployments.
Smith said Nutanix's dedupe is inline for flash and memory, and it will use post-process dedupe for hard drives to avoid impacting performance.
"We'll have a negligible performance overhead while we dedupe data," he said. "And we can do all this in software without requiring specialized hardware like an ASIC [application-specific integrated circuit] or FPGA [field programmable gate array]."
Smith said current Nutanix storage customers will be able to dedupe data after upgrading to NOS 3.5.
Nutanix was first among a small group of startups to sell hyper-converged systems, along with Pivot3, Scale Computing and SimpliVity. Nutanix appears to be the early market leader of the group -- claiming that it has more than 100 customers and is on pace to do $80 million in revenue this year -- but is playing catch-up to SimpliVity on dedupe.
Arun Taneja, consulting analyst at Hopkinton, Mass.-based Taneja Group, said dedupe was required for Nutanix to continue to grow.
"They were missing a key ingredient," Taneja said of Nutanix. "SimpliVity had dedupe from the start. That was OK in the beginning, when Nutanix was the first hyper-converged vendor in the market. When you have something novel, people will pay attention. But it eventually had to add data deduplication."
Nutanix is taking a different approach to dedupe from SimpliVity, whose CEO, Doron Kempel, also founded backup target dedupe vendor Diligent Technologies and sold it to IBM. SimpliVity uses a specialized ASIC to handle its deduplication so it doesn't impact CPU performance instead of deduping in software.
Nutanix's software-based dedupe is initially focused on flash and RAM performance tiers for performance rather than for hard drives to save capacity.
"Nutanix is separating dedupe for performance reasons from dedupe for capacity reduction," Taneja said. "For this release they've focused on dedupe for performance. If I can get a 2:1 reduction in flash, I've doubled my caching capability."
NOS 3.5 includes a new GUI called Nutanix Prism, which uses dashboard interfaces to simplify management. Prism includes a REST-based API so it can be integrated into enterprise or cloud storage management systems.
NOS 3.5 also includes a technical preview for Hyper-V hypervisors, to go with the vendor's current support for VMware vSphere and KVM hypervisors.
"We're releasing it in the public domain," Nutanix's Smith said of Hyper-V support, "but we want more time before we signal to customers to put it in production."
Dig Deeper on Data Storage Solutions for a Virtual Environment
PRO+
Content
Find more PRO+ content and other member only offers, here.