Gridstore changes target to storage for Hyper-V
Gridstore Inc. prepares to release new nodes that handle block storage and are optimized for storage for Hyper-V hypervisors.
Looking for something else?
TECHNOLOGIES

PRODUCTS
Startup Gridstore Inc. has re-architected its storage arrays, shifting from a scale-out network-attached storage design to block storage optimized for improving performance with Microsoft Hyper-V hypervisors.

Download this free guide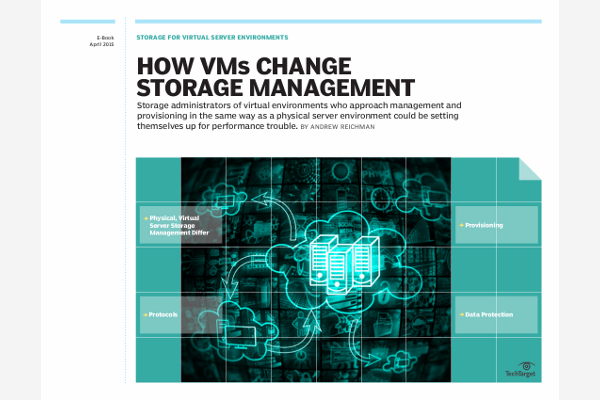 Free download: A complete guide to storage for virtual environments
Many storage admins consider virtual servers for a boost in agility – which is essential when supporting remote offices, new business applications, and unbridled data growth. But, if you're thinking of approaching your virtual environments with the same old storage strategy as your physical servers, then you're setting yourself up for a series of performance and capacity issues down the road. Download this invaluable guide, featuring expert tips and advice to help you architect the best storage management strategy for virtual environments.
By submitting your email address, you agree to receive emails regarding relevant topic offers from TechTarget and its partners. You can withdraw your consent at any time. Contact TechTarget at 275 Grove Street, Newton, MA.
You also agree that your personal information may be transferred and processed in the United States, and that you have read and agree to the Terms of Use and the Privacy Policy.

Gridstore is completing a beta program for its new systems, and plans to formally launch them this week. The new product lineup follows a change in CEO in April, when former EMC, Nexsan, X-IO and Yosemite Technologies executive George Symons took over for founder Kelly Murphy. Murphy remains with Gridstore as chief strategy officer.
Following the changes, Gridstore shifted its focus to storage for Hyper-V and Windows Server 2012, while letting others concentrate on supporting the more popular VMware hypervisors. Gridstore is looking to take advantage from the bump in adoption Hyper-V could get from the release of Windows 2012 R2.
"Our goal is to make Hyper-V perform better at a lower price point," Symons said.
Gridstore came out of stealth in 2009 with a network-attached storage (NAS) system based on what the vendor called a virtual storage controller.
Symons said Gridstore storage nodes still include a virtualized controller that sits on each hypervisor host. In this release, Gridstore re-architected its virtual controller to support block and extended its auto-tuning capabilities to an individual virtual machine (VM) basis. Gridstore now relies on Microsoft's Server Message Block 3.0 support for file storage.
The controllers sequentialize I/O, spreading each LUN across nodes in a storage pool and writing to the LUNs in parallel.
"Our virtual controller knows about the data and does intelligent things with it," Symons said. "It takes the I/O from the virtual machine, breaks it into three chunks, and sends each chunk to a node."
He claimed the architecture allows Gridstore to accelerate every application and VM while providing storage Quality of Service to guarantee the performance of most important applications and to scale non-disruptively.
The new systems include H-Class nodes for high-performance IOPS and C-Class nodes for streaming I/O. Both classes are sold as a series of 1U appliances that stack and scale. The H-Class is designed for databases and other demanding I/O applications. It uses PCI Express flash for cache to help random I/O performance, and includes 32 GB of RAM, four Intel Xeon cores, and two Gigabit Ethernet (GbE) and two 10 GbE server connections.
The C-Class is for use cases with less demanding I/O requirements, such as backup and archiving applications. The C-Class does not use flash or 10 GbE connectivity. Like the H-Class, a C-Class node scales to 12 TB of hard drive capacity with 32 GB of RAM and four Xeon cores. The H-Class will be priced at approximately $1.50 per GB, while the C-Class will cost about $1 per GB. Customers must buy a minimum of three nodes because Gridstore writes data in parallel.
Symons said customers can cluster about 250 nodes for 3 PBs of storage in a pool, and can set up multiple pools.
Compared to Gridstore's previous products, the new nodes are denser and the H-Class is Gridstore's first system with flash. Gridstore's early nodes only held up to 2 TB.
Murphy said Gridstore's approach falls under the software-defined storage banner. "Software-defined storage, from our perspective, is end-to-end management of storage," Murphy said. "That has to be driven from the hypervisor so storage is being provisioned from a virtual machine."
Still, Gridstore does not sell software-only appliances, but packages its software on Dell hardware. "We're too concerned about the support nightmare if a customer is using an old server that was sitting in the closet picking up dust that they're sure isn't the problem," Symons said.
While Gridstore is taking a gamble by abruptly changing its strategy, Arun Taneja, a consulting analyst at Hopkinton, Mass.-based Taneja Group, said the vendor is probably making a smart move by going after storage for Hyper-V because there is less competition.
"Every Tom, Dick and Harry is making storage for VMware," Taneja said. "You have Tintri, Tegile and numerous other players whose mantra is, 'We do VMware storage better than anybody else.' Everybody has ignored Hyper-V, and that was OK until now, but our latest survey says Hyper-V adoption has more than doubled in a year."
Symons said Gridstore has approximately 40 customers with its previous systems, and will support them during the product transition.
Dig Deeper on Data Storage Solutions for a Virtual Environment
PRO+
Content
Find more PRO+ content and other member only offers, here.