Tintri VMstore appliance adds Hyper-V support
After making its name as storage for VMware hypervisors, Tintri VMstore adds Microsoft Hyper-V support for multi-hypervisor customers.
Looking for something else?
TECHNOLOGIES

PRODUCTS
After spending three years focusing on storage for VMware customers, the Tintri VMstore platform now supports Microsoft Hyper-V.
Tintri's VMstore was designed to work with virtual machines (VMs) rather than physical servers. It manages and allocates storage at the VM level without using LUNs. It also performs data management functions such as snapshots, clones, replication and quality of service at the VM level.

Download this free guide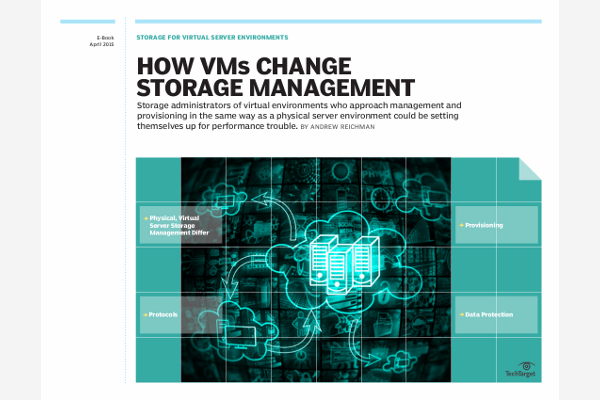 Free download: A complete guide to storage for virtual environments
Many storage admins consider virtual servers for a boost in agility – which is essential when supporting remote offices, new business applications, and unbridled data growth. But, if you're thinking of approaching your virtual environments with the same old storage strategy as your physical servers, then you're setting yourself up for a series of performance and capacity issues down the road. Download this invaluable guide, featuring expert tips and advice to help you architect the best storage management strategy for virtual environments.
By submitting your email address, you agree to receive emails regarding relevant topic offers from TechTarget and its partners. You can withdraw your consent at any time. Contact TechTarget at 275 Grove Street, Newton, MA.
You also agree that your personal information may be transferred and processed in the United States, and that you have read and agree to the Terms of Use and the Privacy Policy.

Tintri added support for Red Hat Enterprise Virtualization last month, but customers have clamored for Hyper-V support. Support for KVM is also on the Tintri roadmap as the use of multiple hypervisors becomes more common.
"The support for Hyper-V has been a customer request. Every customer we talk to either has Hyper-V or is considering it," said Saradhi Sreegiriraju, Tintri's senior director of product management. "There certainly is a lot of demand for it. It's a pull from customers. By the end of the year we will support all three major hypervisors."
Sreegiriraju said Tintri wrote its own Server Message Block (SMB) 3.0 protocol stack that connects to Hyper-V hosts. The Tintri operating system is also integrated natively with Microsoft System Center Virtual Machine Manager and VMware vCenter.
"Our SMB stack is equal to what you get in Windows Server 2012," Sreegiriraju said.
Tintri customers can run the same appliance for VMware and Hyper-V.
According to an IDC study published in April, 59% of companies run at least two hypervisors. Hyper-V is the second most popular hypervisor behind VMware vSphere, according to the analyst firm.
"And that number [using multiple hypervisors] is increasing over time," said Eric Burgener, IDC's research director for storage.
Burgener said Tintri's approach solves the inefficiencies of trying to provision and manage storage in a server virtualization environment.
"They manage storage operations at the VM level," Burgener said. "Why is that important? All storage operations like snapshots, cloning, replication and provisioning are done on LUNs [traditional storage arrays]. That's fine if you are a storage administrator, but it doesn't help virtualization administrators."
Tintri shows a global view of all VMs that are stored and identifies performance and capacity trends without dealing with the underlying storage. It helps to identify performance hot spots at the hypervisor, network and storage level. Individual VMs are protected via customized policies for VM-level snapshots and WAN-efficient replication.
Dig Deeper on Data Storage Solutions for a Virtual Environment
PRO+
Content
Find more PRO+ content and other member only offers, here.