X-IO ISE provides health insurance firm with affordable VDI care
AvMed turns to X-IO ISE hybrid array to resuscitate sluggish virtual desktop infrastructure, which had been too much for its primary storage.
Looking for something else?
TECHNOLOGIES

INDUSTRIES
By the time AvMed had discovered X-IO Technologies, storage problems had placed its virtual desktop infrastructure on the critical list.
The Miami, Florida-based health insurer, which serves approximately 300,000 residents, has experienced an uptick in data volume during the past year, much of which was from new regulatory requirements related to health care reform. For example, under the new requirements, AvMed has to create duplicates of its existing applications, creating multiple versions for simultaneous development and conversion.

Download this free guide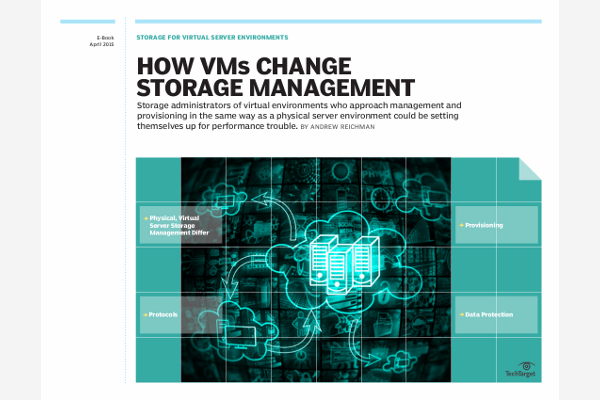 Free download: A complete guide to storage for virtual environments
Many storage admins consider virtual servers for a boost in agility – which is essential when supporting remote offices, new business applications, and unbridled data growth. But, if you're thinking of approaching your virtual environments with the same old storage strategy as your physical servers, then you're setting yourself up for a series of performance and capacity issues down the road. Download this invaluable guide, featuring expert tips and advice to help you architect the best storage management strategy for virtual environments.
By submitting your email address, you agree to receive emails regarding relevant topic offers from TechTarget and its partners. You can withdraw your consent at any time. Contact TechTarget at 275 Grove Street, Newton, MA.
You also agree that your personal information may be transferred and processed in the United States, and that you have read and agree to the Terms of Use and the Privacy Policy.

"We're talking terabytes. We were blowing through [applications] left and right -- anywhere from 1 TB to 7 TB," said Nelson Remy, AvMed's IT infrastructure manager.
AvMed uses EMC Symmetrix DMX arrays for Tier-1 and Tier-2 storage mapped to Oracle databases. AvMed also used DMX for its virtual desktop infrastructure (VDI), allowing employees to access business applications from many devices.
However, performance issues emerged as AvMed's VDI user base grew. Remy said users started to experience login delays of several minutes as the storage dedicated to VDI filled up.
AvMed needed to increase capacity, but adding expansion shelves to its existing EMC servers was ruled out because the controllers were approaching end of life.
The alternatives were purchasing dedicated VDI storage from EMC or buying an all-flash array. The first option would include scheduling engineers to install, configure and map the new machines to storage. "We couldn't afford to plunk down a huge chunk of change to purchase new EMC cages only to start blowing out more drivers as we filled up the cage," Remy said.
Going to all-flash arrays would also prove expensive. Remy said an X-IO product demonstration at a trade show piqued his curiosity, followed by several weeks of research that enabled him to convince his director to allocate the money for the new system.
To accommodate the high I/O draw of VDI, Remy and his IT team installed X-IO ISE 730 hybrid arrays early in 2014. Each array holds 21.6 TB of capacity, including 1.6 TB of flash. The arrays offload VDI storage services from the Symmetrix boxes, which were overtaxed from trying to handle the surging demand.
There are about 300 virtual desktops and Remy said his infrastructure can support 1,000. AvMed is using Windows Terminal Services on top of VMware vSphere 5.1 with plans to switch to Citrix XenDesktop or another VDI application.
He said the ISE storage "meets our challenges with respect to VDI and frees up the EMC cages to handle other storage we're provisioning."
The X-IO ISE hybrid arrays are connected to three Hewlett-Packard DL580 G7 servers via Cisco MDS 9148 Fibre Channel switches.
AvMed has also added two ISE 240 arrays without flash to run Microsoft SQL database servers.
Remy said the X-IO boxes lowered a VDI user's login time to approximately 10 seconds. Another advantage of the ISE arrays is the ease of provisioning, Remy said. Following an hour-long hands-on tutorial by X-IO technicians, Remy's team of server engineers learned to quickly provision storage locally using an "intuitive GUI."
"We've taken our server-build time from about a week and a half from the request to within days," Remy noted.
AvMed is considering using the cloud to take some of the load off its on-premises storage. Remy said the company is vetting cloud backup vendors, including Riverbed Technology, with plans to shift from tape. "We're strongly looking at cloud services for backup," he said.
AvMed currently uses NetApp storage for backup, and then moves the data off to tape.
Dig Deeper on Data Storage Solutions for a Virtual Environment
PRO+
Content
Find more PRO+ content and other member only offers, here.