Gridstore Inc. Hyper-V storage goes bigger, deepens Windows support
Gridstore beefs up capacity for its Hyper-V storage arrays and integrates management through Microsoft Windows Systems Center.
Looking for something else?
TECHNOLOGIES

PRODUCTS
Gridstore Inc., which sells storage arrays specifically for Microsoft Windows Servers and Hyper-V, this week launched larger capacity systems and added the ability to manage the systems from inside Microsoft System Center.

Download this free guide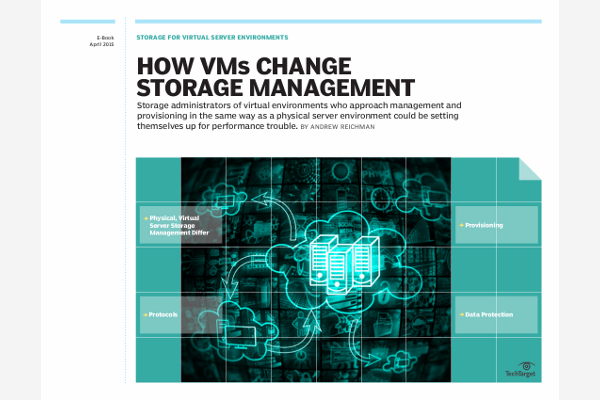 Free download: A complete guide to storage for virtual environments
Many storage admins consider virtual servers for a boost in agility – which is essential when supporting remote offices, new business applications, and unbridled data growth. But, if you're thinking of approaching your virtual environments with the same old storage strategy as your physical servers, then you're setting yourself up for a series of performance and capacity issues down the road. Download this invaluable guide, featuring expert tips and advice to help you architect the best storage management strategy for virtual environments.
By submitting your email address, you agree to receive emails regarding relevant topic offers from TechTarget and its partners. You can withdraw your consent at any time. Contact TechTarget at 275 Grove Street, Newton, MA.
You also agree that your personal information may be transferred and processed in the United States, and that you have read and agree to the Terms of Use and the Privacy Policy.

Gridstore's new 2U nodes can hold 48 TB of capacity, up from a 12 TB maximum in its previous nodes. Customers can cluster 250 nodes, bringing the total capacity to 12 petabytes in one pool. The startup now allows customers to manage storage nodes and pools along with their servers and hosts through System Center's Virtual Machine (VM) Manager.
The new systems come 10 months after Gridstore tailored its clustered storage specifically for Windows servers. Gridstore nodes include a virtual controller (vController) that sits on each hypervisor host and spreads each LUN across the nodes. The vControllers stripe data across nodes, using erasure coding for fault tolerance and giving each VM a separate storage stack. The grid architecture eliminates backplane networks and replicas required for RAID. I/O can be controlled on a per-VM level for quality of service.
Gridstore founder and CTO Kelly Murphy said the System Center integration completes the vendor's software-defined storage and cloud storage vision. Gridstore is built on commodity hardware with all the key features handled in software.
"This is the final building block that we've been looking to put in place," Murphy said of the System Center integration. "The first building block was to make it elastic -- you don't have to pre-buy all your capacity; you can buy as you grow. The second [building block] was to provision specific amounts of I/O in a way that is not possible with traditional storage."
As with previous Gridstore nodes, the 48 TB nodes can be configured for performance or pure capacity. The performance nodes include two 10 Gigabit Ethernet (GbE) ports and 1.1 TB of flash, while the capacity nodes have two or four GbE ports and no flash. The performance nodes are for databases and other apps that demand high I/O, and the capacity nodes are for backup and archiving. A grid requires at least three nodes.
Although more companies still use VMware hypervisors, Gridstore CEO George Symons said the vendor is still going "full speed ahead on Hyper-V." A key reason for that is because Gridstore can achieve deeper integration with Hyper-V than with VMware. A Gridstore node appears like a local drive on Windows, simplifying the setup and management. "It's easy to install our vController into Microsoft," Symons said. "With VMware it has to sit inside ESX, and VMware has not opened up its architecture to make it easy to install into ESX."
Dig Deeper on Data Storage Solutions for a Virtual Environment
PRO+
Content
Find more PRO+ content and other member only offers, here.