HDS readies virtualization strategy
Hitachi is expected to announced its storage virtualization strategy in a few months with products to follow.
Looking for something else?
Hitachi Data Systems will reveal its much anticipated storage virtualization strategy in the fall, the451 expects. Products are expected in 16-18 months' time.

Download this free guide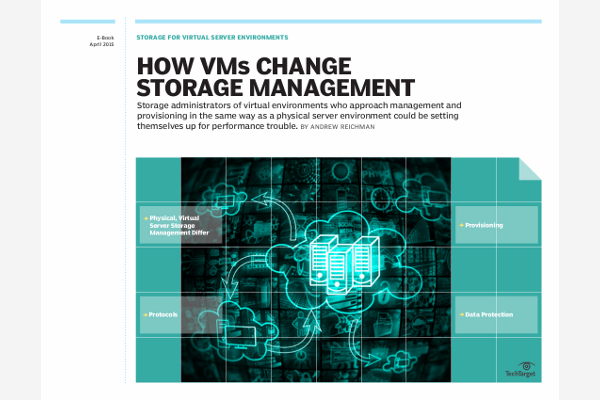 Free download: A complete guide to storage for virtual environments
Many storage admins consider virtual servers for a boost in agility – which is essential when supporting remote offices, new business applications, and unbridled data growth. But, if you're thinking of approaching your virtual environments with the same old storage strategy as your physical servers, then you're setting yourself up for a series of performance and capacity issues down the road. Download this invaluable guide, featuring expert tips and advice to help you architect the best storage management strategy for virtual environments.
By submitting your email address, you agree to receive emails regarding relevant topic offers from TechTarget and its partners. You can withdraw your consent at any time. Contact TechTarget at 275 Grove Street, Newton, MA.
You also agree that your personal information may be transferred and processed in the United States, and that you have read and agree to the Terms of Use and the Privacy Policy.

HDS chief technical officer Hu Yoshida is understood to favor the in-band approach to virtualization, with some custom-built supporting silicon, versus the alternative out-of-band route. The company hasn't disclosed its plans to anyone but a few analysts with whom it's putting the strategy together -- plus partner Veritas.
A senior HDS executive, however, told the451 the strategy will see HDS invest in one or more companies, with a plan to acquire them at the point at which they would otherwise go public. It has an existing relationship with Troika Networks and sees CommVault Systems as an important future player.
specialist DataCore Software. If HDS goes ahead with an OEM deal for that company's SANsymphony product and is serious about investing in strategic partners, then it could open up in an interesting bidding war for the Fort Lauderdale, Florida based-company. Other industry players, including HDS competitor EMC and fabric switch leader Brocade, are also understood to be watching DataCore with keen interest.
Being able to manage and monitor every storage device as a single storage resource -- virtualization -- is the holy grail of storage area networking. There are currently many different approaches. In-band metadata server appliances offer file sharing and virtualization across different vendor platforms. They're cost-effective but difficult to scale and to make fault-tolerant. In-band network storage servers -- arrays front-ended by NFS/CIFS processors -- can back up to a SAN, but both approaches are in-band, don't scale well and need clustering to become highly available.
The Storage Networking Industry Association, meanwhile, is working on an out-of-band API that all vendors could use -- and implement in hardware -- with IBM and Compaq pushing their VersaStore technology as its foundation.
By September, HDS will also be shipping its Hi-Command console, which offers a single graphical view of (and command line access to) the multiple storage management applications a user may be running.
More Thunder and more Lightning is the way HDS describes the development of its disk product lines. It points out that by adding higher-capacity drives -- 144GB rather than the current 73GB -- it could deliver over 50TB in a single Lightning, up from 27TB now.
HDS claims that new products, channels and distribution agreements it has in the pipe will change the competitive face of the storage industry. But it's not giving much away. The existing relationships with Veritas and Microsoft (where HDS is eyeing the 6,000 enterprise NT users) are primarily to develop better integration.
Indeed, having been sat on by Sun for revealing it was in talks about a reseller deal, it now won't say how those talks are progressing, simply that the situation is ongoing.
HDS dismisses Sun's claim that the tie-up between Brocade, McData, IBM, EMC, Compaq and HDS to certify the interoperability of their respective SAN products was a closed process. For starters, Sun isn't even a member of the industry-wide Storage Networking Industry Association, so it can hardly complain about being closed out of any process. Besides, it was specifically invited to join the effort.
---
the451 (www.the451.com) is an analyst firm that provides timely, detailed and independent analysis of news in technology, communications and media - to evaluate the service click here.
Dig Deeper on Storage Network Virtualization
PRO+
Content
Find more PRO+ content and other member only offers, here.