Virtualization not the whole story, says EMC
EMC says "virtualization" is a term used haphazardly by storage vendors these days. According to EMC, the real trick is moving data around the storage system behind the scenes without user intervention.
Looking for something else?
San Francisco - EMC doesn't like the 'virtualization' word that nearly all the storage vendors have now adopted. "I try to avoid the term," says senior vice president and chief technology officer Jim Rothnie, "because there are so many different ways of looking at it." EMC believes there's more to storage virtualization than the usual concentration on data abstraction. Its answer is the Automatic Information Storage initiative, under development for the last two years and expected to reach the market sometime next year.

Download this free guide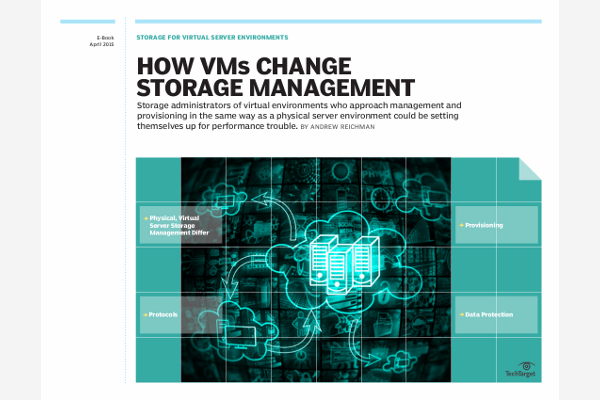 Free download: A complete guide to storage for virtual environments
Many storage admins consider virtual servers for a boost in agility – which is essential when supporting remote offices, new business applications, and unbridled data growth. But, if you're thinking of approaching your virtual environments with the same old storage strategy as your physical servers, then you're setting yourself up for a series of performance and capacity issues down the road. Download this invaluable guide, featuring expert tips and advice to help you architect the best storage management strategy for virtual environments.
By submitting your email address, you agree to receive emails regarding relevant topic offers from TechTarget and its partners. You can withdraw your consent at any time. Contact TechTarget at 275 Grove Street, Newton, MA.
You also agree that your personal information may be transferred and processed in the United States, and that you have read and agree to the Terms of Use and the Privacy Policy.

Abstraction can present users with a logical view of storage, hiding the complexities of the underlying physical systems. That's good as far as it goes. But in EMC's view, abstraction needs to be tied in to the more advanced concept of 'data mobility,' where information is moved around the storage system behind the scenes, without any user intervention. "Nobody else is doing that," says Rothnie.
That data movement happens independently from the application, so that performance, availability and other service levels can be set. The network must self-adjust to meet the required service levels without user intervention, or the cost of storage administration staff will be prohibitive. EMC thinks it can bring about a tenfold reduction in management labor costs through AIS.
Architecturally, storage networks gather all storage resources into one domain so that overall management control can be applied. Data mobility tools can then distribute the information around to where it's most needed, or to where there's spare or more cost-effective capacity. In some ways this is analogous to the world of hierarchical storage management, originally developed in the mainframe era ? but this time taking advantage of the various new types of devices that have become accessible on a single network.
"There's now much more scope for optimizing performance," says Rothnie. "Many kinds of configuration changes, such as adding new capacity, can be made. This way, when a user plugs in a new box, it's auto-discovered by the network, which figures out what the capacity is, recognizes it as a cold new resource and moves data into it."
To implement AIS, three existing product lines are being extended. The first is the SRDF remote data facility replication tool, which earlier this year came out in an adapted version called SRDF/DM, for data mobility. SRDF has also been extended over the last few years to work across fiber channel and IP-based wide area networks for long distance replication. Next year, a new version called Dynamic SRDF will emerge, doing away with the need for the permanent source-target settings needed for current versions. Similar extensions will be made to the MirrorView remote mirroring product used on its 4700 Chameleon network-attached storage boxes.
The second product line to be extended will be PowerPath, the server-resident I/O redirection product that provides load balancing and path failover capabilities over up to 32 channels between server and storage devices. It will be adapted to work between multiple storage devices.
The third element is ECC, the EMC Control Center, a centralized management console that will be extended to provide an overall framework for AIS.
Competitors will be on the lookout to see how tied AIS will be to EMC's own hardware. Rothnie insists it will be part of EMC's open storage strategy, and will be developed to work with third-party products. "Not that we want to sell a lot of copies of SRDF to Hitachi, but because we recognize that in management and connectivity products, customers don't want to be constrained in their future choices." But with the headlong rush to jump on the virtualization bandwagon, EMC's approach won't be the only approach to consider. Already, companies such as Amdahl Software, Fujitsu-Softek, Veritas, OTG and Legato are starting to put more emphasis on data movement as part of their own storage management strategies.
But too much separation between hardware and software could weaken EMC's hold on its core business ? hardware. Such a development is ultimately inevitable, but observers suspect that EMC won't want too usher that time in any sooner than it needs too. Rothnie disagrees. "Our hardware, and all our products, can stand on their own," he says.
---
the451 (www.the451.com) is an analyst firm that provides timely, detailed and independent analysis of news in technology, communications and media. To evaluate the service click here.
Dig Deeper on Data Storage Solutions for a Virtual Environment
PRO+
Content
Find more PRO+ content and other member only offers, here.