Quick takes: A virtual world
FalconStor certifies Imperial Technology's solid-state disk and file cache appliances; and Fujitsu announces the new storage virtualization and SAN management software; NetConvergence to debut iSCSI host driver products.
Looking for something else?
Virtually solid
FalconStor Software Inc., has certified Imperial Technology Inc.'s, solid-state disk and file cache appliances, for use with its IPStor storage virtualization software. El Segundo, Calif., headquartered Imperial's MegaRam solid-state accelerators provide access to data at higher speeds than conventional rotating disk drives.

Download this free guide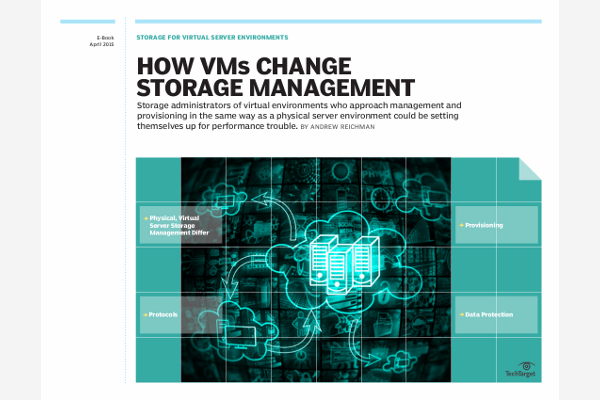 Free download: A complete guide to storage for virtual environments
Many storage admins consider virtual servers for a boost in agility – which is essential when supporting remote offices, new business applications, and unbridled data growth. But, if you're thinking of approaching your virtual environments with the same old storage strategy as your physical servers, then you're setting yourself up for a series of performance and capacity issues down the road. Download this invaluable guide, featuring expert tips and advice to help you architect the best storage management strategy for virtual environments.
By submitting your email address, you agree to receive emails regarding relevant topic offers from TechTarget and its partners. You can withdraw your consent at any time. Contact TechTarget at 275 Grove Street, Newton, MA.
You also agree that your personal information may be transferred and processed in the United States, and that you have read and agree to the Terms of Use and the Privacy Policy.

MTI gets virtual
Also on the FalconStor front, the Melville, N.Y.-based company announced an OEM agreement with MTI Technology Corp., Anaheim, Calif., to incorporate FalconStor's storage virtualization technology as part of MTI's Vivant family of enterprise SAN and NAS storage solutions. MTI will integrate specialized versions of FalconStor?s IPStor virtualization technology into MTI's DataServices architecture, which includes combinations of hardware systems, connectivity technologies, storage management, backup/restore, data replication, and service options.
The software side of storage
Fujitsu Software Technology Corp. (Fujitsu Softek), Sunnyvale, Calif., announced the general availability of its new storage virtualization and SAN management software, Softek Virtualization, 'powered by DataCore' and Softek SANView respectively. The company also announced that for a limited time, Softek SANView would be included with Softek Virtualization at a special bundled price. Softek SANView software automatically discovers s storage devices and creates a SAN topology. Configurations start at $80,000.
Fujitsu Software Technology Corp.
Move over Prince Albert
Metro optical networking products from San Jose, Calif.-based Alidian Networks Ltd., have been certified by Removable Media Solutions Inc., (RMSI) as interoperable with storage-area network (SAN) platforms from RMSI and Brocade Communications Systems Inc. The interoperability testing, which was completed in RMSI's labs last week, was designed to assure users that Alidian products can transport SAN services on wavelengths between remote locations in the metro area. RMSI has certified Alidian's Optical Service Network (OSN) family of DWDM add/drop multiplexers to operate on a metro network containing RMSI's SAN-in-a-CAN integrated SAN solution or Brocade's SilkWorm family of Fibre Channel fabric switches.
Removable Media Solutions Inc.
Driving IP storage
IP storage software maker NetConvergence Inc., Santa Clara, Calif., plans to introduce a family of iSCSI host driver products later this month that the company says complements current IP storage products by letting enterprise host initiators, workstations or servers support end-to-end iSCSI configurations. The host driver products are the first glimpse of NetConvergence's Xeniphast branded line of IP storage drivers.
New head honcho
Gadzoox Networks Inc., headquartered in San Jose, Calif., has appointed former COO of Coactive Networks, Eddie J. Streeter Sr., as its new vice president of operations. In his new position Streeter will be responsible for directing all manufacturing, purchasing, test engineering, NPI, and quality operations for the company's SAN products and solutions. Streeter is also responsible for the management of Gadzoox Networks' relationships with Electronic Manufacturing Suppliers (EMS).
Got news? E-mail Kevin Komiega, assistant news editor
Dig Deeper on Data Storage Solutions for a Virtual Environment
PRO+
Content
Find more PRO+ content and other member only offers, here.