IBM nails down dates, performance for storage virtualization
IBM on Tuesday announced the date for the debut of its SAN Volume Controller and SAN Integration Server. The company says that the pair of storage virtualization offerings will hit the streets at the end of July and that the products will offer throughput in the area of 280,000 I/Os per second.
Looking for something else?
The first two storage virtualization products from IBM have emerged from development and, according to Big Blue and a few experts, the tools offer some impressive storage area network (SAN) performance numbers.

Download this free guide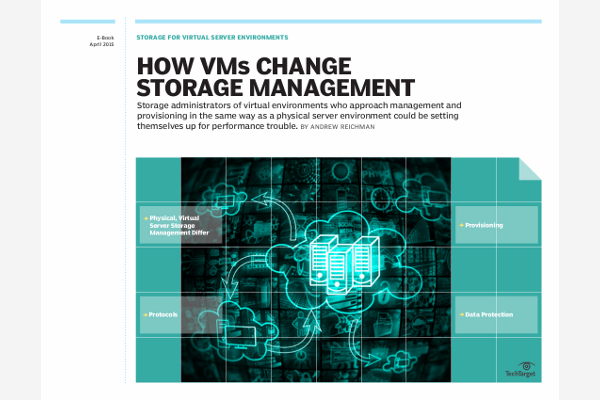 Free download: A complete guide to storage for virtual environments
Many storage admins consider virtual servers for a boost in agility – which is essential when supporting remote offices, new business applications, and unbridled data growth. But, if you're thinking of approaching your virtual environments with the same old storage strategy as your physical servers, then you're setting yourself up for a series of performance and capacity issues down the road. Download this invaluable guide, featuring expert tips and advice to help you architect the best storage management strategy for virtual environments.
By submitting your email address, you agree to receive emails regarding relevant topic offers from TechTarget and its partners. You can withdraw your consent at any time. Contact TechTarget at 275 Grove Street, Newton, MA.
You also agree that your personal information may be transferred and processed in the United States, and that you have read and agree to the Terms of Use and the Privacy Policy.

The IBM TotalStorage SAN Volume Controller and SAN Integration Server, which will both be available July 25, were designed to give users a centralized point of control for volume management and to provide a common platform for functions like copy services, quality of service, security, and improved capacity utilization, IBM said.
IBM's design provides performance scalability by adding more I/O groups, which enable the SAN Volume Controller to scale storage capacity by adding disks to its attached storage arrays. The company said this results in performance of up to 280,000 I/Os per second (IOPs), up to 1780 Mbps of throughput and up to 2 petabytes of pooled storage.
IBM said the SAN Volume Controller, with a base configuration price of $60,000, integrates virtualization software with IBM eServer xSeries servers running an operating environment based on a Linux 2.4 kernel.
The SAN Integration Server, with a base configuration price of $140,000, uses the SAN Volume Controller's virtualization technology with leading Fibre Channel switches and IBM FAStT storage, integrated into a preconfigured solution, delivered and installed as a complete SAN solution.
Jeff Barnett, manager of IBM's market strategy for storage software, said the SAN Integration Server is a "virtualized SAN-in-a-can."
He said that IBM will ship virtualization products that initially support IBM storage servers, but the company will expand the products for compatibility with non-IBM storage systems later in 2003. Customers that purchase the initial version will be entitled to a non-disruptive upgrade as this support becomes available, Barnett said.
Dianne McAdam, senior analyst and partner with Nashua, N.H.-based Data Mobility Group Inc., noted that, although the initial offering will be targeted at its array customers, IBM expects to deliver support for other vendors' arrays in the future. "That is when we can expect to see them expand their marketing efforts to customers with other vendors' arrays," she said.
Randy Kerns, senior analyst with the Evaluator Group Inc., in Greenwood Village, Colo., said IBM expects the standalone SAN Volume Controller and its integrated counterpart to be sold through channel partners as a consolidation solution.
"The solution competes with companies that want to consolidate to a single big box, and the [SAN Volume Controller] will be significantly less expensive," Kerns said.
Kerns said pricing is one of the SAN Volume Controller's strong points.
"It is much cheaper than a big box solution, and the virtualization is an enabler for storage management, which will greatly drive down the administrative costs," he said.
"If you only worry about the hardware costs, you've missed the point. The virtualization solution enables more consolidation management and policy-based automation, which will be the dominating cost savings."
FOR MORE INFORMATION
Let us know what you think about the story. E-mailKevin Komiega, News Writer
IBM shipping new, data-tapping software
IBM servers and Exabyte tape drives offer one-two punch
Comment on this article in the SearchStorage.com Discussion forums
Dig Deeper on SAN Virtualization and SAN Storage Consolidation
PRO+
Content
Find more PRO+ content and other member only offers, here.