IBM, Cisco spruce up SVC
IBM has announced that SAN Volume Controller now supports third-party storage and iSCSI, but it's a complex and slow sell, according to analysts
Looking for something else?
IBM Corp. continues to lean on Cisco Systems Inc. for more support pushing its SAN Volume Controller virtualization software, a product industry analysts say is proving difficult to sell.

Download this free guide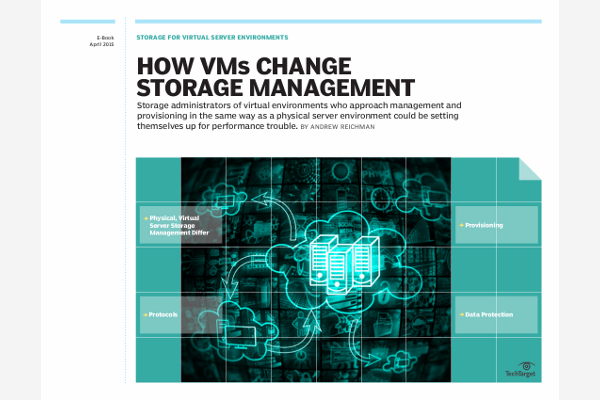 Free download: A complete guide to storage for virtual environments
Many storage admins consider virtual servers for a boost in agility – which is essential when supporting remote offices, new business applications, and unbridled data growth. But, if you're thinking of approaching your virtual environments with the same old storage strategy as your physical servers, then you're setting yourself up for a series of performance and capacity issues down the road. Download this invaluable guide, featuring expert tips and advice to help you architect the best storage management strategy for virtual environments.
By submitting your email address, you agree to receive emails regarding relevant topic offers from TechTarget and its partners. You can withdraw your consent at any time. Contact TechTarget at 275 Grove Street, Newton, MA.
You also agree that your personal information may be transferred and processed in the United States, and that you have read and agree to the Terms of Use and the Privacy Policy.

The software -- available since December as a standalone product or module for Cisco's MDS 9000 storage switches -- now supports mid-range storage arrays from EMC Corp., Hitachi Data Systems and Hewlett Packard Co. Previously, it only worked with IBM storage. It allows users to administer volume management, data replication, and point-in-time copies directly from the network.
IBM contests the view that SAN Volume Controller (SVC) is stuck in a sales cycle Groundhog Day. "We've deployed it to hundreds of customers in 40 different countries," said Jeff Barnett, manager of strategy for storage software at IBM. He said the early adoption in Europe was down to a more "developed and technical" channel over there, "but it's picking up in North America and South America, too." He wasn't able to name any U.S. customers though.
UK carrier BT Group Ltd, Canon subsidiary Fotango and the University of Cologne are among the early adopters. The University was the first user of SVC for the Cisco MDS 9000, which it acquired and deployed with IBM's channel partner Carus Information Technology AG in Germany.
"Shifting from managing storage on different servers to a switch-based vendor-independent management model … increased our application availability and improved the productivity of our staff," said Claus Kalle, manager of the systems department at the University of Cologne. He was unavailable to provide more details.
Compliance rules
SVC skeptics fear that while IBM was hard at work creating and eventually launching its virtualization product, EMC changed the focus of the market. "Virtualization was big two years ago; now compliance is more important," said Jack Scott, analyst at the Evaluator Group. "The key is to be able to marry the technology to a business process requirement, and EMC does this with compliance."
Others point out that SVC has a part to play in tiered storage as it lets users move less important data to lower cost storage arrays, and notably, to arrays from different vendors if required. This information lifecycle management (ILM) model is the cornerstone of EMC's storage strategy. However, EMC will not have a network-based virtualization product on the market until mid-2005.
Marketing battles aside, there are some additional enhancements to SVC, such as support for iSCSI, which might prove interesting to users.
Previously, the software module for Cisco's switches only supported devices connected through Fibre Channel. The extended support for iSCSI means users can connect remote servers that are not close enough for Fibre Channel, giving them access to storage in the datacenter and thereby increasing storage utilization. "It's good for DR purposes … providing primary to secondary backup over IP without the need for expensive Fibre Channel extenders," said Barnett. IBM has also added driver support for Windows 2003 and Solaris.
IBM picked Cisco to partner with as its caching module on the switch uses the same in-band architecture as SVC. "Brocade and McData have an out-of-band caching approach," Barnett said. He added that IBM is talking with these other companies about different approaches to virtualization, and it's possible the company's SAN file system will support out-of-band virtualization sometime in the future.
SVC doesn't come cheap. Pricing for the Cisco caching service module with SVC on an MDS 9000 is $112,000. IBM sells SVC as an appliance for $60,000. The new version with multi-protocol and heterogeneous storage support will be available July 30.
Dig Deeper on SAN Virtualization and SAN Storage Consolidation
PRO+
Content
Find more PRO+ content and other member only offers, here.