Tech Roundup: Virtualization
While the merits of storage virtualization have been widely argued in recent years, users are now coming around to the notion that virtualization is a worthy and real technology. This tech roundup has the latest on virtualization.
Looking for something else?
While the merits of storage virtualization have been widely argued in recent years, users are now coming around to the notion that virtualization is a worthy and real technology. According to SearchStorage.com expert Jamie Gruener, "religious wars of where virtualization will reside as a technology are increasingly irrelevant. Some storage administrators want to use host-based approaches, others leverage array-based tools, and today there are a growing number of fabric-and switch-based tools that will do storage virtualization."

Download this free guide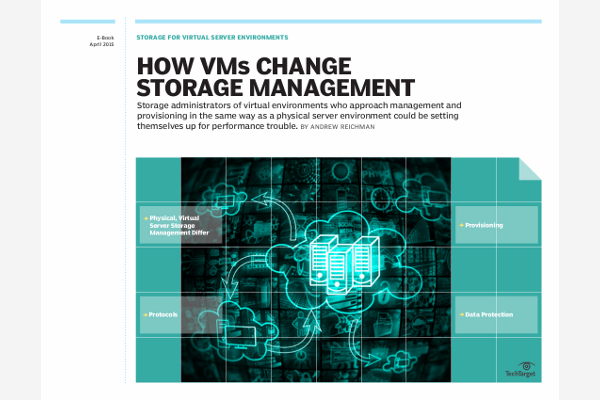 Free download: A complete guide to storage for virtual environments
Many storage admins consider virtual servers for a boost in agility – which is essential when supporting remote offices, new business applications, and unbridled data growth. But, if you're thinking of approaching your virtual environments with the same old storage strategy as your physical servers, then you're setting yourself up for a series of performance and capacity issues down the road. Download this invaluable guide, featuring expert tips and advice to help you architect the best storage management strategy for virtual environments.
By submitting your email address, you agree to receive emails regarding relevant topic offers from TechTarget and its partners. You can withdraw your consent at any time. Contact TechTarget at 275 Grove Street, Newton, MA.
You also agree that your personal information may be transferred and processed in the United States, and that you have read and agree to the Terms of Use and the Privacy Policy.

Definition:
Virtualization is the pooling of physical storage from multiple network storage devices into what appears to be a single storage device that is managed from a central console. Storage virtualization is commonly used in a storage area network (SAN). The management of storage devices can be tedious and time-consuming. Storage virtualization helps the storage administrator perform the tasks of backup, archiving, and recovery more easily, and in less time, by disguising the actual complexity of the SAN.
Users can implement virtualization with software applications or by using hardware and software hybrid appliances. The technology can be placed on different levels of a storage area network.
Where the vendors stand:

Despite what Jamie Gruener sees as the future of virtualization, Christopher Poelker explains where each of the vendors think their virtualization products will live. There are three basic types of virtualization each vendor offers. When you decide on a vendor, the best thing to do is make sure you understand which technique they use and what their roadmap is.

Trends and analysis:

More and more virtualization is being defined and actually implemented by storage managers. But before you choose a virtualization product, you may want to take a look at the 10 things you can do with virtualization. Then you can better understand how to choose a good SAN virtualization solution.
More from the Storage Media Group (SearchStorage.com and Storage Magazine) on this topic:
News: IBM, Cisco spruce up SVC

News: Merrill Lynch: Network-based virtualization saves money

News: EMC to build virtualization storage router

News:User refuses to be IBM virtualization guinea pig

News:Adaptec buys storage virtualization vendor Elipsan

Tip: Four trends that are changing virtualization

Expert advice: How virtualization can work for you

Storage magazine extra: Virtualization in the switch? Not so fast

Tip: Top 10 tips on storage management

Advice: How to select a virtualization vendor

Tip: Virtualization in the data center

Tip: The best practices of storage management

Advice: Why and how to virtualize inside a switch

Fast guide to SAN Management: Virtualization

Learn more about virtualization techniques at Storage Management School
Dig Deeper on Storage Network Virtualization
PRO+
Content
Find more PRO+ content and other member only offers, here.