Storage virtualization technology benefits and drawbacks
We outline the benefits and drawbacks of storage virtualization technology, and tell you how to implement data storage virtualization into your environment.
Looking for something else?
TECHNOLOGIES

PRODUCTS
Managing multiple storage devices can be difficult and time-consuming, so many IT managers turn to storage virtualization technology for data storage management. Storage virtualization can hide the complexity of a storage-area network (SAN) by pooling together multiple storage devices so they look like they're just one storage device. Reducing the complexity of a SAN can often help IT administrators perform backup tasks more easily. Plus, storage virtualization software can often reduce costs and help with overall storage infrastructure problems.

Download this free guide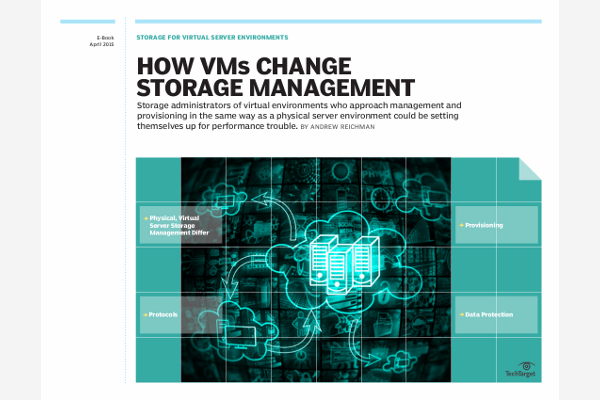 Free download: A complete guide to storage for virtual environments
Many storage admins consider virtual servers for a boost in agility – which is essential when supporting remote offices, new business applications, and unbridled data growth. But, if you're thinking of approaching your virtual environments with the same old storage strategy as your physical servers, then you're setting yourself up for a series of performance and capacity issues down the road. Download this invaluable guide, featuring expert tips and advice to help you architect the best storage management strategy for virtual environments.
By submitting your email address, you agree to receive emails regarding relevant topic offers from TechTarget and its partners. You can withdraw your consent at any time. Contact TechTarget at 275 Grove Street, Newton, MA.
You also agree that your personal information may be transferred and processed in the United States, and that you have read and agree to the Terms of Use and the Privacy Policy.

But despite the benefits of storage virtualization, many IT administrators are slow to implement the technology because the transition from a non-virtualized to a virtualized environment isn't always a smooth process. Professional services are often needed to analyze vendor products and help IT managers with the complex transition.
SearchStorage.com has compiled its top four articles and guides on storage virtualization technology to help you get a better grasp on its benefits and drawbacks. Read our essential guide on storage virtualization to see how it can cut costs and increase storage efficiency. Take a closer look at the Storwize V7000, one of the new storage virtualization products on the market, and then see how block-based storage virtualization is working for three users. Finally, learn about the most important factors you should consider when implementing storage virtualization in your environment.


Storage virtualization essentials: Cut costs and increase storage efficiency
Storage virtualization isn't as popular as server virtualization because many IT administrators have a hard time deciding where storage virtualization should go. Should you put it in the hosts, networks or arrays? In addition, once you decide on a storage virtualization vendor, you're usually stuck with them for the long run. However, storage virtualization can lower equipment costs and solve many storage infrastructure issues. This guide takes an in-depth look at the technology, offers a buying guide and vendor comparison, and explains how storage virtualization can help with disaster recovery. Read our full guide on storage virtualization essentials.


IBM launches Storwize V7000 storage virtualization platform
IBM recently launched its Storwize V7000 midrange storage virtualization technology system, which uses the code stack from IBM's SAN Volume Controller (SVC) block storage virtualization device, the user interface from its XIV enterprise system and the DS8000 platform's RAID stack. Features include a 2U controller and expansion enclosures, and the ability to hold 6 Gbps SAS drives and 300 GB solid-state drives (SSDs). Learn more about the features and functions of the Storwize V7000 in this article.


Block-based storage virtualization project guide
The main goal of block-based storage virtualization is to simplify storage management, but how well does it do that? SearchStorage.com looked at three different storage virtualization technology projects to give you a sense of the challenges associated with storage virtualization, how difficult a storage virtualization implementation can be, and how the workload is divided between staff and consultants. Explore our block-based storage virtualization project guide.


Storage virtualization projects: Factors to consider when implementing storage virtualization
Storage virtualization technology creates an abstraction layer, often making data migration easier for users. Read this story to find out what factors to consider when implementing storage virtualization products.
Dig Deeper on Data Storage Solutions for a Virtual Environment
PRO+
Content
Find more PRO+ content and other member only offers, here.