Virtual server tutorial: Managing a server virtualization environment
This virtual server tutorial evaluates network storage options for virtual servers, describes the VMware vStorage APIs and discusses VMware virtual servers.
Looking for something else?
TECHNOLOGIES
While virtual servers seem to have infiltrated almost all data centers, according to our fall 2010 Storage Purchasing Intentions survey -- which pegs the percentage of sites without any server virtualization at approximately 15% -- the industry hasn't been especially quick to resolve issues around storage management for those virtualized servers. And many IT organizations are still grappling over which type of shared storage platform makes the most sense for their virtualized server environments.

Download this free guide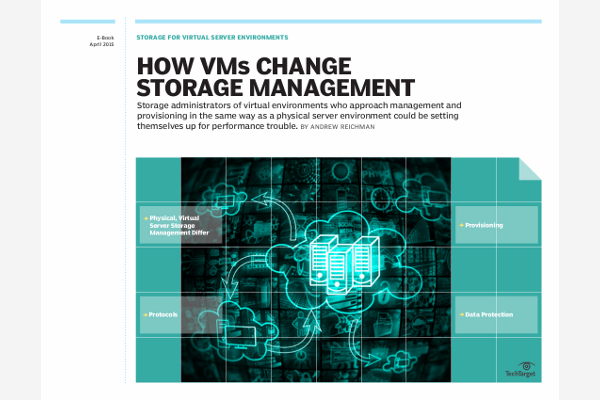 Free download: A complete guide to storage for virtual environments
Many storage admins consider virtual servers for a boost in agility – which is essential when supporting remote offices, new business applications, and unbridled data growth. But, if you're thinking of approaching your virtual environments with the same old storage strategy as your physical servers, then you're setting yourself up for a series of performance and capacity issues down the road. Download this invaluable guide, featuring expert tips and advice to help you architect the best storage management strategy for virtual environments.
By submitting your email address, you agree to receive emails regarding relevant topic offers from TechTarget and its partners. You can withdraw your consent at any time. Contact TechTarget at 275 Grove Street, Newton, MA.
You also agree that your personal information may be transferred and processed in the United States, and that you have read and agree to the Terms of Use and the Privacy Policy.

To help you understand the range of choices you face for storage management in a virtual server environment, this virtual server tutorial compares the pros and cons of network-attached storage (NAS), Fibre Channel storage-area networks (SANs) and iSCSI SANs to support virtual servers; examines how VMware Inc.'s vStorage APIs work and which storage vendors support them; and offers expert analysis on how VMware's storage support differs from that of Citrix Systems Inc. and Microsoft Corp.
♦ Network storage options for virtual servers depend on needs, skill set
For any IT organization to make full use of its server virtualization infrastructure, networked storage is an absolute prerequisite. But which storage platform is the best choice for supporting that infrastructure: NAS, Fibre Channel SAN or iSCSI SAN? In this article, we outline the key advantages and disadvantages of all the network storage options to help guide your decision.
♦VMware vStorage APIs draw more support from storage vendors
Over the past few years, VMware has rolled out a number of APIs to help ease the storage management burden around its virtual servers. And data storage vendors are stepping forward to support the APIs. Check out our cheat sheet on the available VMware vStorage APIs as to why they're useful and which storage vendors support them in their products.
♦VMware virtual servers offer advanced shared storage options
Citrix, Microsoft and VMware all offer options for provisioning and managing storage for their virtual servers. In this podcast interview, Marc Staimer, president at Dragon Slayer Consulting, explains what VMware has done to improve on how its products interact with storage, outlines how VMware's storage management support differs from Citrix XenServer and Microsoft Hyper-V, and gives advice for how to choose the right storage platform for environments with VMware virtual servers.
Dig Deeper on Data Storage Solutions for a Virtual Environment
PRO+
Content
Find more PRO+ content and other member only offers, here.