FalconStor bids for
FalconStor is betting that its IPStor software will rock the storage market by providing "storage virtualization."
Looking for something else?
FalconStor bids for "storage virtualization"
By Alan Earls
Founded just last year, FalconStor, based in Melville, NY, is betting that its IPStor software will rock the storage market by providing "storage virtualization." Storage virtualization is the ability to arrange multiple physical storage devices, such as disks/arrays or tapes/libraries of various interface protocols (such as SCSI, iSCSI, Fibre Channel), into logical "storage pools." From these storage pools, virtual storage devices can then be created and provisioned to application servers, making them easier for the system operator to manage, improving the performance of the storage network and allowing for rapid storage growth and reconfiguration without unnecessary downtime -- a requirement that has become vital to e-business.

Download this free guide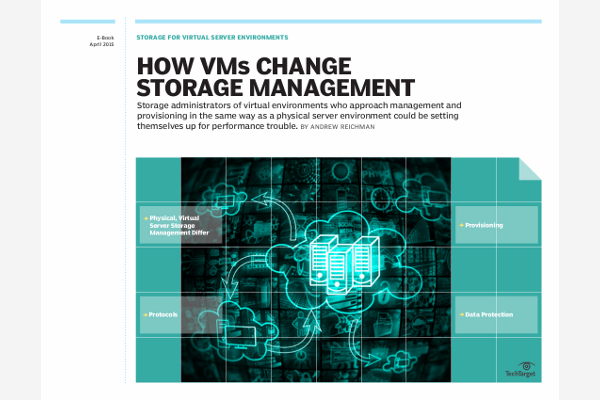 Free download: A complete guide to storage for virtual environments
Many storage admins consider virtual servers for a boost in agility – which is essential when supporting remote offices, new business applications, and unbridled data growth. But, if you're thinking of approaching your virtual environments with the same old storage strategy as your physical servers, then you're setting yourself up for a series of performance and capacity issues down the road. Download this invaluable guide, featuring expert tips and advice to help you architect the best storage management strategy for virtual environments.
IPStor is one of many vendor product offerings to focus on the lucrative storage virtualization market. IPStor's architecture aims to unify storage area networks (SAN) and network-attached storage (NAS) under a common management umbrella while adding high availability, active failover, snapshot, mirroring, zero-impact backup and recovery.
"Other companies offer storage over IP by using the IP protocol to link Fibre Channel networks -- but the communication between storage devices and servers uses the Fibre Channel, " explains Rei Jane Huai, FalconStor's founder and president. "Our architecture is the opposite, we offer end-to-end connectivity," says Huai.
"FalconStor has the first true hybrid in the storage over IP market," says Steve Duplessie, senior analyst at Milford, Mass.-based Enterprise Storage Group. "They have combined the ability to create Ethernet storage networks with a virtualization engine that will allow customers to create robust, secure, and easily managed storage networks," he says.
"This is a first that we've seen, and should open up a lot of doors for the company," adds Duplessie.
Additional resources:
About the author: Alan Earls is a freelance writer in Franklin, Mass.
Dig Deeper on Storage Network Virtualization
PRO+
Content
Find more PRO+ content and other member only offers, here.