HP expands its ENSAextended strategy
Hewlett-Packard expands its ENSAextended strategy
Looking for something else?
Highlights
At its ENSA@Work yearly storage conference, Hewlett-Packard made a major announcement with its ENSAextended architecture. HP and Brocade Communications jointly announced a joint development agreement to deploy HP VersaStor virtualization technology within the new Brocade Silkworm fabric application platform. The development partnership combines the CASA (Continuous Access Storage Appliance) and the Rhapsody multi-protocol switching platform.

Download this free guide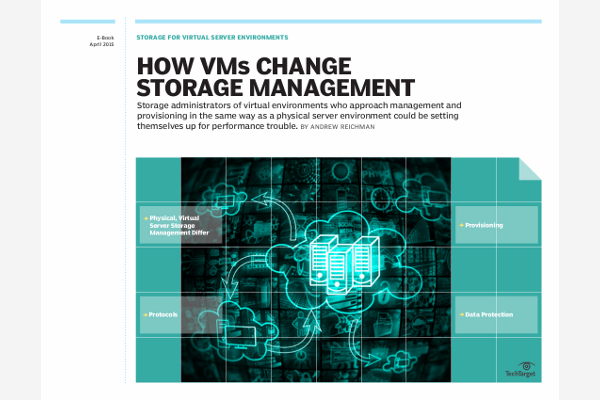 Free download: A complete guide to storage for virtual environments
Many storage admins consider virtual servers for a boost in agility – which is essential when supporting remote offices, new business applications, and unbridled data growth. But, if you're thinking of approaching your virtual environments with the same old storage strategy as your physical servers, then you're setting yourself up for a series of performance and capacity issues down the road. Download this invaluable guide, featuring expert tips and advice to help you architect the best storage management strategy for virtual environments.
By submitting your email address, you agree to receive emails regarding relevant topic offers from TechTarget and its partners. You can withdraw your consent at any time. Contact TechTarget at 275 Grove Street, Newton, MA.
You also agree that your personal information may be transferred and processed in the United States, and that you have read and agree to the Terms of Use and the Privacy Policy.

Evaluator Group notes:
The Continuous Access Storage Appliance (CASA) was formerly the HP sv3000 storage appliance. The first generation was introduced in 2000 as the StorageApps SANLink appliance. CASA is a network storage appliance that integrates hardware and software providing an abstracted (virtualized) storage pool attached to a storage area network (SAN). The CASA provides host independent connectivity between application servers and storage elements. The CASA features include data replication, point-in-time image, storage security and virtualization. HP stresses three major usage scenarios for the CASA: 1) storing database copies off the production storage system, 2) online and offsite data backup and 3) migrating data to a new storage system.
On November 5 2002, Brocade stated its intentions to purchase Rhapsody Networks. Rhapsody is a manufacturer of a multi-protocol switching platform, similar to the switch development efforts by Cisco/Andiamo, supporting Fibre Channel and Ethernet interfaces and has intelligence in a computing blade which can host software from other vendors such as Veritas, FalconStor, StoreAge, Topio and others. Brocade's plans were laid out in March 2002, to offer a virtualization switch, the V-switch, which runs software from multiple vendors. The purchase of Rhapsody has accelerated its time to market strategy.
HP stated by integrating its VersaStor technology into the CASA and intelligent switching platforms will create a network storage pool that will distribute processing across the storage network and intelligently route I/O based on the data services required. This network-based virtualization is based on a modular approach. A user can install the CASA now for replication and migration services and then in late 2003 implement a VersaStor-enabled CASA solution and add VersaStor enabled switches into their existing fabric. Each solution will be managed via HP OpenView Storage Area Manager (OVSAM) software.
Evaluator Group comments:
The original VersaStor technology from Compaq was an asymmetrical pooling solution that would provide "SAN-wide" virtualization. HP has combined the virtualization approaches of each company retaining most of the original VersaStor technology. The combination of the Rhapsody switches with the VersaStor technology offers a symmetrical virtualization of the domain of storage behind the intelligent switch plus HP is promising interoperability with existing fabrics. HP has laid out a bold roadmap and is the first of the major server vendors to lay out its virtualization strategy in detail. The CASA is available today and has a substantial installed base. The CASA is an excellent SAN consolidation solution offering heterogeneous storage and server attachments and excellent replication services. HP stated they intend on marketing their virtualization solutions across all of the major platforms. This action could accelerate other virtualization solutions from the other major players.
The change from the asymmetrical virtualization of VersaStor where a custom HBA was needed for every attached server to a less intrusive solution will meet with wider appeal.
====================================================
To view all Storage Evaluator analyses and commentaries, go to Storage Evaluator Tips ====================================================
The Evaluator Series and Evaluator Series On-Line (ES/OL) are trademarks of Evaluator Group, Inc.
Dig Deeper on Virtualization Strategy
PRO+
Content
Find more PRO+ content and other member only offers, here.