Lessons in virtual technology: Evaluating hypervisor-aware storage
Expert Jacob Gsoedl outlines some key areas of hypervisor-aware support to help you align vendors' virtual roadmaps with your requirements.
Looking for something else?
TECHNOLOGIES

PRODUCTS
What you will learn in this tip: Virtual technology, and hypervisor-aware storage in particular, is still evolving, so understanding future features is important. Expert Jacob Gsoedl outlines some key areas of support to help you ensure vendors' virtual roadmaps align with your business requirements.

Download this free guide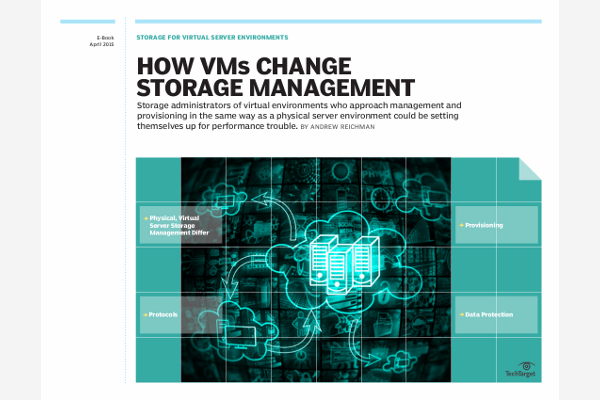 Free download: A complete guide to storage for virtual environments
Many storage admins consider virtual servers for a boost in agility – which is essential when supporting remote offices, new business applications, and unbridled data growth. But, if you're thinking of approaching your virtual environments with the same old storage strategy as your physical servers, then you're setting yourself up for a series of performance and capacity issues down the road. Download this invaluable guide, featuring expert tips and advice to help you architect the best storage management strategy for virtual environments.
By submitting your email address, you agree to receive emails regarding relevant topic offers from TechTarget and its partners. You can withdraw your consent at any time. Contact TechTarget at 275 Grove Street, Newton, MA.
You also agree that your personal information may be transferred and processed in the United States, and that you have read and agree to the Terms of Use and the Privacy Policy.

Without question, startups are pioneering storage architectures and features that are intended to better support virtual server environments. When evaluating hypervisor-aware storage, weighing the risk inherent to a startup and the benefits of its products is an important exercise. You need to consider if it will be around for the long run, if it's able to offer adequate support, and whether the product is mature and stable. It may be prudent to have a plan B if the startup vanishes or the product doesn't live up to its promises. These are important issues you need to address before you make a virtual technology purchase.
Some hypervisor-aware storage only supports virtual servers and will not work with physical servers. Others support a specific hypervisor, such as VMware vSphere or Microsoft Hyper-V. Clearly, understanding what's supported is critical to protect your investment.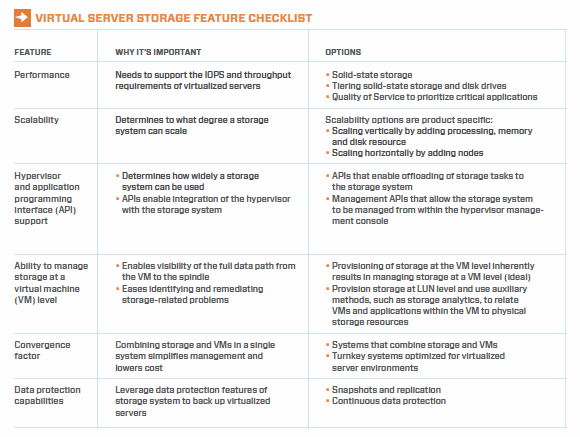 Virtual server storage feature checklist.
Discuss roadmaps during your evaluation. What hypervisors are on the roadmap? What hypervisor application programming interfaces are planned?
Validate storage features that have become standard in storage arrays, from thin provisioning, snapshots and replication to compression, deduplication and cloud storage integration. Hypervisor-aware products may offer a newfangled way of interacting with hypervisors, but they may not be up to speed with standard array features.
Hypervisor-related features and storage management
A key aspect of evaluating hypervisor-aware storage is how the storage system supports and integrates with hypervisors. A few hypervisors, such as Citrix XenServer and Red Hat, are usually lower priority and some storage systems don't support them at all.
For supported hypervisors, you need to determine the level of integration and the supported APIs. In the case of VMware, you'll want to know if the storage system supports the VMware vStorage APIs for Array Integration (VAAI) that enable offloading of storage tasks, such as copying and moving data and thin provisioning, from the VMware hypervisor to the storage array. You'll also want to know to what degree the VMware vStorage APIs for Storage Awareness (VASA) are supported. VASA enables storage arrays to integrate with VMware vCenter for management functionality, giving vSphere administrators insight into storage capabilities via plug-ins (or "providers") through which vCenter can receive information about capabilities, health status, configuration and capacity from the underlying array, and display it in the vCenter user interface.
In the case of Microsoft Hyper-V, you'll need to know if the array supports Windows Server 2012 Offloaded Data Transfer (ODX) to enable offloading of copy and move operations to storage arrays. It's also important to ask if the array supports the Storage Management Initiative Specification (SMI-S) or Storage Management Packs to enable managing storage from within System Center Virtual Machine Manager 2012.
One of the challenges of traditional storage systems in virtualized server environments has been the level at which storage is provisioned and managed. Traditionally, storage has been provisioned and managed at a LUN level. A LUN is usually assigned to a physical server, and storage from the LUN is then assigned to virtual machines (VMs). Without further integration between the underlying storage array and the hypervisor, it can be challenging to correlate virtualized resources to the physical storage array and components, such as disks and controllers. Some hypervisor-aware storage system vendors have changed the storage architecture to provision and manage storage at a VM level, and others have complemented traditional storage systems with auxiliary tools that provide that insight. The ability to correlate applications on VMs to the underlying physical storage, providing visibility to the full data path, is an indispensable ability any hypervisor-aware storage system should have.
About the author:
Jacob N. Gsoedl is a freelance writer and a corporate director for business systems. He can be reached at jacobslab@live.com.
Dig Deeper on Virtualization Strategy
PRO+
Content
Find more PRO+ content and other member only offers, here.