SD2003: Consolidation strategies that work - Carlson Companies' SAN consolidation
Faced with exponential storage growth, Norman Owens realized his company was headed for trouble if it did not start consolidating resources onto a storage area network (SAN).
Looking for something else?
Like many IT staff faced with exponential storage growth, Norman Owens realized a few years back that his company was headed for a challenge if it did not start consolidating its storage resources onto a storage area network (SAN).

Download this free guide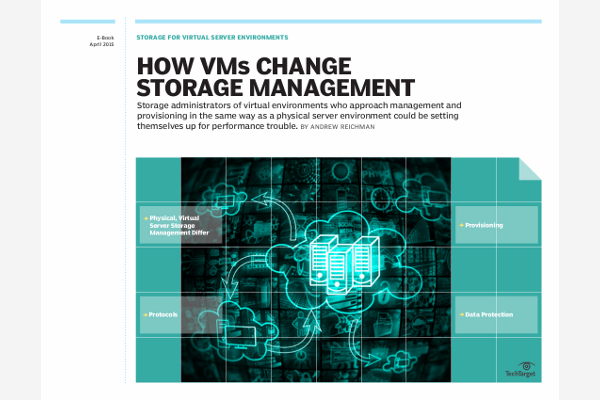 Free download: A complete guide to storage for virtual environments
Many storage admins consider virtual servers for a boost in agility – which is essential when supporting remote offices, new business applications, and unbridled data growth. But, if you're thinking of approaching your virtual environments with the same old storage strategy as your physical servers, then you're setting yourself up for a series of performance and capacity issues down the road. Download this invaluable guide, featuring expert tips and advice to help you architect the best storage management strategy for virtual environments.
By submitting your email address, you agree to receive emails regarding relevant topic offers from TechTarget and its partners. You can withdraw your consent at any time. Contact TechTarget at 275 Grove Street, Newton, MA.
You also agree that your personal information may be transferred and processed in the United States, and that you have read and agree to the Terms of Use and the Privacy Policy.

Owens, a storage network engineer and consultant with Carlson Companies, spoke to an audience of his peers at Storage Decisions 2003 recently about his company's consolidation efforts. (While not necessariy a household name, Carlson Companies is an international presence behind such well-known retail and hotel chains as TGI Friday's and Radisson hotels and resorts.)
Before consolidating onto a SAN, Owens' shared services group supported a configuration with one mainframe and 26 servers, where most of the servers were hard at work supporting the company's Oracle Financials database under HP/UX. This arrangement handled 14TB of data, over 54 SCSI and 8 ESCON connections. "It looked like a point-to-point SCSI solution," Owens said, noting, "There were a whole lot of cables." When they needed more storage, "We'd just go buy another frame."
After the company asked his group to take on more responsibilites for its global IT storage operations, Owens and his coworkers decided now was the time to look at a more consolidated approach.
Enter the company's current storage over IP "fan-out" infrastructure, with Nishan Systems' switches and a core/edge design that Owens affectionately calls "the funnel." Commenting on their decision to move into IP-based solutions, Owens said that the ability to connect remote sites was something "we had to do, or else our storage wouldn't have been approved."
The company rolled out its extensive SAN consolidation in phases. Today, it consists of 108 Fibre Channel connections, 8 ESCON connections, 56 IP-based interswitch links (ISLs), 44 servers, 1 mainframe and 4 LTO tape drives.
While the current implementation meets most of the company's needs and had some surprise benefits to help them incorporate other of the company's application data, Owens said they still need to address some remaining issues, such as capacity and scalability issues. "We're not always sure we have the right ports in the right places," he said. They have also begun looking at director-class switches to help handle the sheer size of their current SAN infrastructure.
His group is also still grappling with organizational issues that impact the growth of the SAN, such as departmental reluctance to hand over the management of their storage, and the Wintel group's continued interest in exploring more of an iSCSI-based solution.
Owens' presentation slides, including architectural diagrams, and other links to the full session proceedings are available here.
---
About the speaker: Norman Owens is a storage engineer and storage consultant at Carlson Companies, where he's based out of Plymouth, Minn.

Dig Deeper on SAN Virtualization and SAN Storage Consolidation
PRO+
Content
Find more PRO+ content and other member only offers, here.