Essential Guide
Using Hyper-V features to enhance storage
A comprehensive collection of articles, videos and more, hand-picked by our editors
Tips for first-time SCSI pass-through disk users
Learn how to directly attach a virtual machine to a physical storage device by using pass-through disks in a Hyper-V environment.
FROM THE ESSENTIAL GUIDE:
Although Hyper-V virtual machines are usually configured to use virtual hard disks, they can be configured to connect directly to a physical storage device. A virtual machine can connect to direct-attached storage (DAS) that is physically connected to the host server, or it can connect to a logical unit number on a SAN.

Download this free guide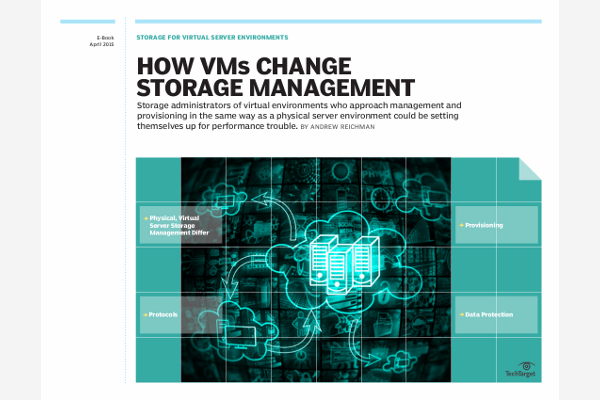 Free download: A complete guide to storage for virtual environments
Many storage admins consider virtual servers for a boost in agility – which is essential when supporting remote offices, new business applications, and unbridled data growth. But, if you're thinking of approaching your virtual environments with the same old storage strategy as your physical servers, then you're setting yourself up for a series of performance and capacity issues down the road. Download this invaluable guide, featuring expert tips and advice to help you architect the best storage management strategy for virtual environments.
By submitting your email address, you agree to receive emails regarding relevant topic offers from TechTarget and its partners. You can withdraw your consent at any time. Contact TechTarget at 275 Grove Street, Newton, MA.
You also agree that your personal information may be transferred and processed in the United States, and that you have read and agree to the Terms of Use and the Privacy Policy.

Those using the SCSI pass-through disk feature for the first time often have difficulty connecting a virtual machine (VM) to the desired disk. However, there is a method to the madness. The trick to making a logical unit number (LUN) available to a VM as a pass-through disk is that the LUN must not only be mapped to the host server but also be presented as offline.
The first step in the process is to connect the host server to the LUN. You don't have to do anything in this step if the LUN consists of DAS, but if the LUN resides on a SAN you will need to establish connectivity to the LUN from the Hyper-V server's host operating system.
Once connectivity is established, the LUN should be visible through the host OS disk management console. Normally, the disk management console shows the disk as offline (depending on the SAN policy). While this would seem to meet Hyper-V's criteria, there is one more issue to overcome before you can use the LUN as a SCSI pass-through disk: Ensuring the disk has been initialized.
If the disk management console displays the disk as "unknown," it means the disk has not been initialized and Windows cannot use it. In this situation, you must right-click on the disk and choose the "Initialize Disk" command from the shortcut menu. Windows will then ask if you want to initialize the disk using a Master Boot Record or a GUID partition table (GPT). A GPT is usually preferred, but you should base your selection on how the VM will use the pass-through disk.
When the Initialize Disk Wizard completes, the hard disk may display a status of "online." If this happens, you need to right-click on the disk and set the status to "offline." The LUN should now be ready to use for pass-through storage.
PRO+
Content
Find more PRO+ content and other member only offers, here.