Virtual Interface standard finds a place in the sun
Looking for something else?
Virtual Interface standard finds a place in the sun
By Alan Earls
Troika Networks, Inc., and Network Appliance, Inc. (NASDAQ: NTAP), a leader in the networked storage space, have recently announced that they plan to work together to have Network Appliance integrate Troika's Zentai(TM) Controller technology into its Enterprise filers. Troika's Zentai Controller solution -- currently the only Fibre Channel controller utilizing the VI (Virtual Interface) standard -- is expected to allow Network Appliance storage appliances to be able to be integrated within Fibre Channel storage networking environments. According to the companies, this capability would provide for improved server-to-server and filer-to-filer data exchange.

Download this free guide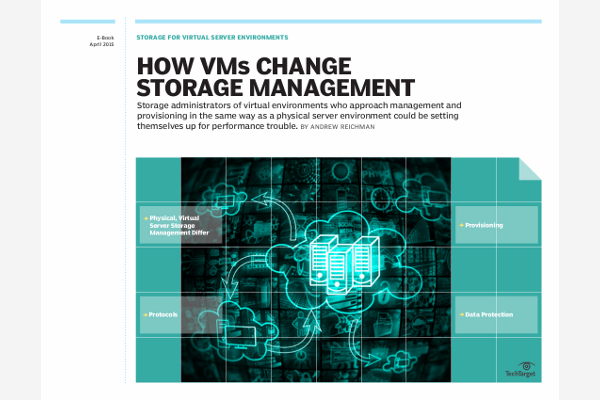 Free download: A complete guide to storage for virtual environments
Many storage admins consider virtual servers for a boost in agility – which is essential when supporting remote offices, new business applications, and unbridled data growth. But, if you're thinking of approaching your virtual environments with the same old storage strategy as your physical servers, then you're setting yourself up for a series of performance and capacity issues down the road. Download this invaluable guide, featuring expert tips and advice to help you architect the best storage management strategy for virtual environments.
By submitting your email address, you agree to receive emails regarding relevant topic offers from TechTarget and its partners. You can withdraw your consent at any time. Contact TechTarget at 275 Grove Street, Newton, MA.
You also agree that your personal information may be transferred and processed in the United States, and that you have read and agree to the Terms of Use and the Privacy Policy.

"Network Appliance has just validated Troika's product concept," said Arun Taneja, an analyst with Milford, Mass.-based Enterprise Storage Group. "This combination will allow applications on servers implemented in a SAN to now get access to Network Appliance-based files at near wire speeds, thanks to FC-VI capability in Troika's HBA," said Taneja. "It is yet another example of NAS-SAN bridging that has begun to happen in the market," he added.
VI was developed to provide a single standard interface for clustering and application networking. VI's touted benefits include improvement in CPU utilization and a drastic reduction in response time at the application level. VI over Fibre Channel (FC-VI) combines the prominent technology for implementing SANs with an industry-standard method for interconnecting computers in clusters. For this reason, FC-VI is said to enable the development of a reliable, scalable, high-availability infrastructure necessary to support e-applications. Fibre Channel also provides the flexibility and distances between servers and storage required for distributed data centers.
"With the advent of the Internet and more comprehensive applications available to take advantage of a company's increasing business data, a better, more efficient way to access data is becoming a necessity," notes Brenda Christensen, vice president of marketing for TROIKA. "Both TROIKA and Network Appliance have played integral leadership roles in the use of VI and support for the Direct Access File System (DAFS) collaborative," she added.
About the author: Alan Earls is a freelance writer in Franklin, Mass.
Dig Deeper on Virtualization Strategy
PRO+
Content
Find more PRO+ content and other member only offers, here.