Essential Guide
Hyper-V and vSphere storage APIs: Tailoring your virtual environment
A comprehensive collection of articles, videos and more, hand-picked by our editors
vStorage APIs for Storage Awareness improve view into arrays in VMware environments
The new vStorage APIs for Storage Awareness (VASA) improve visibility into storage arrays that support VMware environments. In this tip, find out how VASA can help admins better manage storage.
FROM THE ESSENTIAL GUIDE:
In vSphere 5, visibility into the storage arrays that support a VMware virtualized server environment got a whole lot better with the addition of a new set of vStorage APIs, the vStorage APIs for Storage Awareness (VASA).

Download this free guide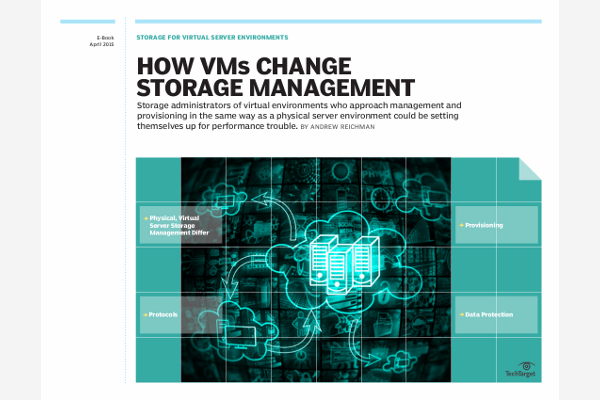 Free download: A complete guide to storage for virtual environments
Many storage admins consider virtual servers for a boost in agility – which is essential when supporting remote offices, new business applications, and unbridled data growth. But, if you're thinking of approaching your virtual environments with the same old storage strategy as your physical servers, then you're setting yourself up for a series of performance and capacity issues down the road. Download this invaluable guide, featuring expert tips and advice to help you architect the best storage management strategy for virtual environments.
By submitting your email address, you agree to receive emails regarding relevant topic offers from TechTarget and its partners. You can withdraw your consent at any time. Contact TechTarget at 275 Grove Street, Newton, MA.
You also agree that your personal information may be transferred and processed in the United States, and that you have read and agree to the Terms of Use and the Privacy Policy.

These APIs provide a way of extracting information about the storage arrays that support a virtualized server environment so that the virtualization layers can make better decisions about where to place data.
This functionality is important to virtualization and storage administrators because it enables hypervisor management tools to access information about the capabilities of a storage array, such as native thin provisioning, deduplication, spindle speed, interconnect speeds, etc. This information can then be used in tasks such as capacity planning, automation and orchestration.
The APIs also help an administrator or tool to build a profile about the underlying storage subsystems. These profiles can then be used by virtualization administrators to better manage the storage.
To illustrate how this works, let's examine two use cases, one with the vStorage APIs for Storage Awareness and one without.
Case 1, without VASA: A heavily used Microsoft SQL Server database with heavy I/O load in utilization and IOPS is on an array that needs to be updated. To address the problem, the administrator finds free space somewhere else and puts the database there, but the new location has half the performance of the original storage location. This migration has a dramatic negative effect on a business-critical application.
Case 2, with VASA: A heavily used Microsoft SQL Server with a heavy I/O load in utilization and IOPS is on an array that needs to be updated. To address the problem, using information from VASA, the virtualization administrator searches for a storage location that has similar performance characteristics of the original storage location, and moves the database to the new location.
With the vStorage APIs for Storage Awareness, the virtualization administrator can make an intelligent decision, rather than simply find free space, and he can also prepare users for a possible pending slowdown.
Case 2 is a perfect scenario for automation and orchestration within the virtual environment, which have been enabled by vSphere 5's Storage Distributed Resource Scheduling (DRS) feature. Using information from the prebuilt VASA profile within VMware vCenter, Storage DRS automates the placement of storage workloads based on contention to similar storage locations.
Granted, at the moment, among hypervisor vendors, VASA is used by only VMware, but other hypervisor vendors could use SNIA's Storage Management Interface Specification (SMI-S) APIs to get similar data and thereby allow non-VMware virtualization administrators to take control of their storage without running to a storage administrator for information every time they want to migrate a VM between data stores.
As more capabilities are available to VASA, storage profiles and automation will improve. For instance, it will be possible in the future to specify that a particular VM will always reside on an array that has deduplication, replication, thin provisioning and high IOPS.
Unfortunately, in virtual server environments with arrays that don't support VASA, virtualization administrators will have to build such profiles by hand, in their heads or on a spreadsheet -- until their arrays do support VASA. And they'll need to solicit input from the storage administrators, whose time could be better spent elsewhere.
Edward L. Haletky is the author of multiple books about the VMware virtualization platform and the CEO of AstroArch Consulting Inc. and The Virtualization Practice.
PRO+
Content
Find more PRO+ content and other member only offers, here.